Not knowing what else to do, a desperate daughter took to Twitter with a heartbreaking tweet, revealing a family secret she couldn't keep to herself any longer. She never imagined the social media post would send hundreds of people flocking to her dad's taco truck the next day.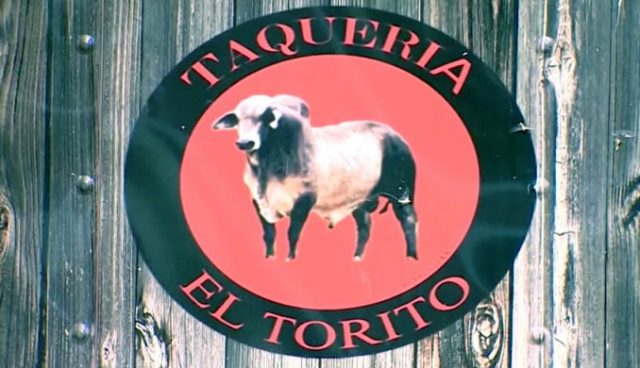 Giselle Aviles, a 21-year-old Texas woman, was distraught when she realized how badly her dad's taco truck business was struggling. Having a close father-daughter relationship, Giselle often asked her dad about his workday, and for weeks, sales had been plummeting. Sometimes, he only earned $60, $40, or even just $20 a day. Then, just when they thought things couldn't get worse, they did.
After returning home from a full day of work on his taco truck, Giselle asked how business was going. Her father had devastating news. Sales were in a huge slump, and he had only earned $6 for a full Saturday of work, the NY Post reported. Knowing her family couldn't continue to struggle in such a way, Giselle decided she had to do something to help her hardworking dad.
Having worked in the restaurant industry his entire life, Giselle's dad, Elias, was no stranger to the struggles associated with it. At one point, the family had owned a brick-and-mortar restaurant, but when the economy crashed in 2008, they were forced to downsize. Rolling with the punches, Elias decided to open a Mexican street taco food truck, and his new endeavor had been going well.
After about six years, however, he was once again struggling to keep his business afloat. With sales stunningly low, Giselle reached out to the Twitterverse for help. "At that moment, when he told me $6, I said 'nothing hurts,'" Giselle recalled. "When he said $6, it was kind of like are you kidding me?" she told CNN. "So, I just said, 'Well, we have nothing to lose,' and I decided to make the tweet that day."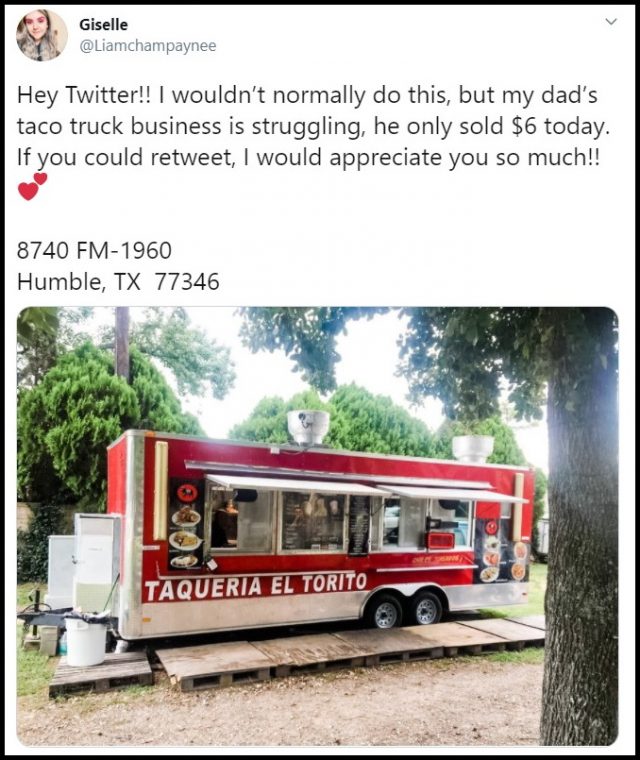 "Hey Twitter!! I wouldn't normally do this, but my dad's taco truck business is struggling, he only sold $6 today," Giselle Aviles humbly tweeted. "If you could retweet, I would appreciate you so much!!" she continued, directing people to Taqueria El Torito, her father Elias' eatery on wheels in Humble, Texas.
Within hours, Giselle's post raked in thousands of retweets, but would anyone follow-through and visit her dad's taco truck as she had humbly requested? She thought they would and told her dad that he should start to prepare for many new customers when the truck opened again.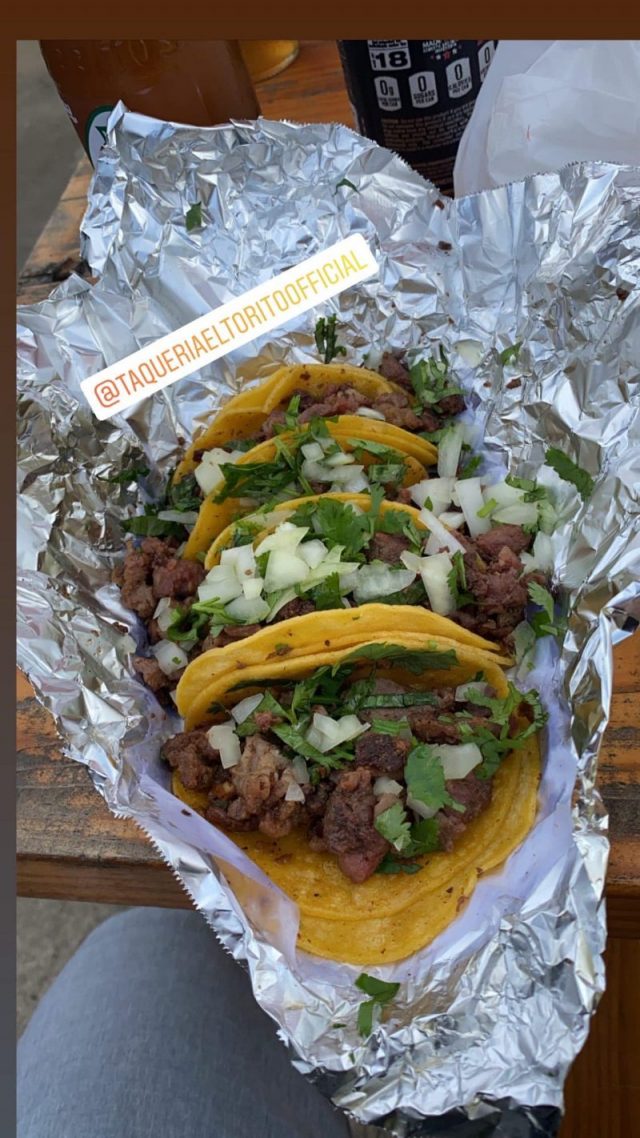 Not understanding social media, Giselle's father wasn't sure what to expect. He found out the impact a viral post can have, however, when he went to work in the morning and was greeted by scores of customers who had already begun to flock to the business in an incredible outpouring of support, according to KHOU 11. And, it was even better than Giselle had hoped.
When Elias arrived at his food truck at 8 a.m., a line of customers awaited him, some who had been waiting since as early as 6 a.m., Giselle said. With dozens of hungry people lined up outside the food cart in a massive flood of support, the taco truck was forced to close down twice — once to restock and again when they were completely sold out. Elias even had to recruit his daughter to help keep up with the orders.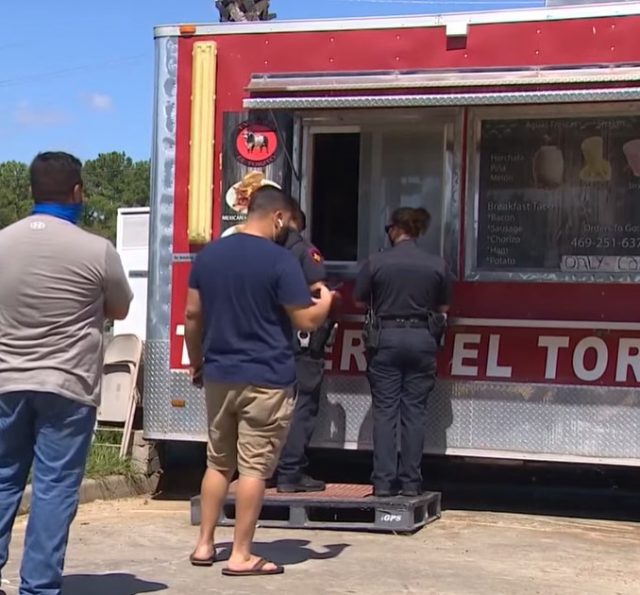 Even though the taco truck had to close an hour early because they ran out of food, Giselle estimated that her dad served more than 100 customers, who bought meals at the eatery on wheels after her desperate social media plea. Making things even better, the busy days continued into the rest of the week, causing Giselle to take to social media once again.
"Hey everyone!! We are overwhelmed with joy from all of the response and support we've been receiving," Giselle tweeted. "It's amazing what social media can do!! As of right now, it's just one person fully working (my dad!) so PLEASE be patient with us, as we are trying to get orders out as quickly as possible," she continued, adding that they were looking to hire more workers because business was doing so well.
"There were so many people, and [my dad] was kind of shocked because he didn't think there would be a turn around that quickly," Giselle said, expressing her gratitude for all the people who helped spread the word, bringing in new customers and putting a smile on her father's face. "It feels amazing because I was just trying to just help him," she added. "Just being able to do something that's going to give him business right now, that's going to get him known."
Taco 'bout heartwarming! It's tough running a restaurant, especially a family-run operation. Although Giselle was hopeful, she never imagined the response and new business her tweet would bring in. Like she said, however, that's the power of social media, and it's a pretty incredible tool when it's used for good.