Gary Sinise's unwavering support of our veterans is well-known. However, what most people don't know is how his life was changed forever after he got "a calling" on 9/11.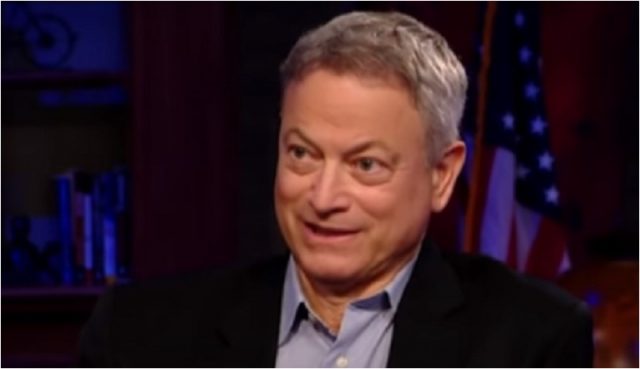 Gary Sinise comes from a family of veterans who served in World War I, World War II, Korea, and Vietnam. That impressive background led a young Sinise to support our troops. "I have a lot of veterans in my family," he said. "But it wasn't until I met the Vietnam veterans on my wife's side of the family that it awakened something in me as a young person."
However, Sinise admits his real focus was on his acting career until that fateful day: September 11, 2001. Of course, 9/11 profoundly affected all Americans, but something truly life-changing happened to the Apollo 13 star as he watched the Twin Towers come crashing down. In fact, the "calling" Sinise felt on 9/11 is described by him as the major "turning point" in his life.
"I can most certainly say that what happened to our country on September 11, 2001, broke my heart and changed me forever," Sinise recalled. "It forced me to rethink everything. What do I really believe? How do I want to raise my kids? What kind of example do I want to set for them? How can I use my good fortune to help?" The beloved actor's soul-searching caused him to change the course of his life's work.
"After September 11, I knew where I was going to place my energy to support my country after those attacks," he explained. "It all came to a head when I decided that this felt like a calling to me to serve the men and women who defend us." Sinise also worried that what happened to our Vietnam vets would happen again. "I was fearful at this time that we would deploy our troops to Iraq and Afghanistan and they would not feel appreciated," he declared.
"I decided that I would take the good fortune I've had in my career and apply it to the creation of the Gary Sinise Foundation," he said, explaining his goal after 9/11. Through that horrific tragedy and out of the ashes of the World Trade Center, Gary Sinise refocused his life to benefit our veterans. However, you'll never catch him blowing his own horn.
"Yet, what sacrifices I've made in my career, and as a father and husband, to achieve this service mission pales in comparison to what our men and women in uniform — and by extension, their loved ones — were asked to do when our nation went to war in Afghanistan, and then Iraq," Sinise said. The Forst Gump star also remembers this profound sense of loss at a church service right after the terrorist attacks.
"Like so many of us during that time, the tragic loss of life and the violence inflicted upon our country left me heartbroken," Gary Sinise recalled. "It was like getting punched in the stomach, the wind knocked out of me. Our church was packed, standing room only and at the end of the service that day, we all joined together in singing God Bless America."
Sinise went on to describe the inner turmoil he was feeling during the church service. "Standing there, holding our youngest daughter's hand, tears streamed down my cheeks," he said. "I hardly kept a tune as my voice cracked, my mind replaying the horrific images of two jetliners slamming into the World Trade Center, the attack on the Pentagon, and the downing of United Flight 93 in Shanksville, Pennsylvania." It was in that moment that Sinise felt he was being called to do something "more."
"I had to do something," the Of Mice & Men star said. "And in the days and weeks that followed, my fear and grief began to mix with a deep sense of patriotism and pooled together to spur an introspection I'd never felt before. I thought to myself, what can I do to help protect my family and what can I do to give back to this country I love?"
Looking back over 20 years later, Gary Sinise now sees how devoting his life to our veterans helped him in so many ways. "Serving others became the current of healing that gave me strength and has kept me going all these years," he declared. Sinise is truly one of those rare individuals who understands that it is in serving others that we find our true purpose, and we can thank God for whatever awakening Gary Sinise had, that sprung from the horrendous 9/11 attacks, to become one of America's most beloved patriots.