The Beaumont Police Department in Texas applauded a young female store clerk for fighting back after she was brutally attacked by a knife-wielding robber. In fact, the young woman taught him a lesson: don't bring a knife to a gunfight.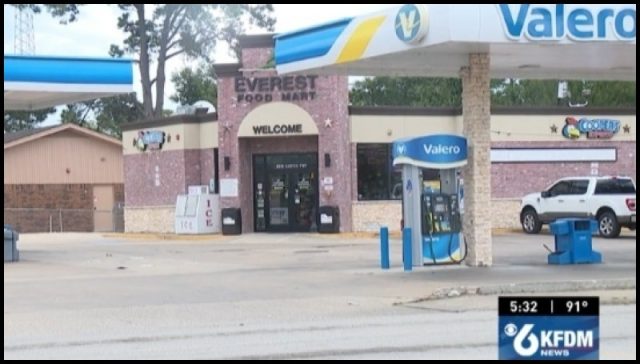 One young store clerk found herself fighting for her life when a knife-wielding crook proceeded to rob the store and then attack her. According to KMBT-TV, "Beaumont Police responded to the Everest Food Mart located in the 2800 block of Eastex Freeway after receiving a call about a robbery in progress. The call came in shortly after 11:30 p.m."
While police were on their way to the scene, the station said they were told the store clerk shot the robber multiple times. Police arrived at the store within minutes of receiving the initial call. At that point, law enforcement spoke to the clerk, who had suffered minor injuries. The preliminary investigation determined the robber displayed a knife and attacked the clerk prior to her shooting him, it was reported.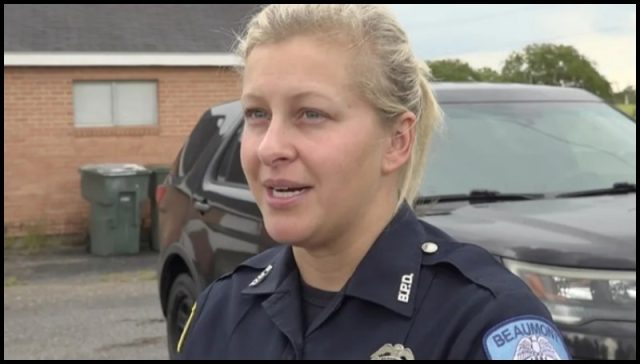 Many convenience stores are easy pickings for robberies, and that's why many of them choose to have a firearm hiding beneath the front counter. It appears this was the case with this crime. Beaumont Officer Hayley Morrow explained that it takes a gutsy clerk to grab that gun and fight back. "Essentially, you know, we see the aggravated robberies often; in a lot of cases what we don't see is … a victim fight back and defend themselves," she said. "But, you know, we want to make sure that people understand that they do have that right."
The suspect, who was identified as 62-year-old William Coleman, sustained multiple gunshot injuries, 12News reported. "Coleman was taken to an area hospital to be treated for serious injuries. He was later charged with aggravated robbery. Once Coleman is released from the hospital, he will be taken to the Jefferson County Jail and held there on a $250,000 bond." The female store clerk wished to stay anonymous.
Another incident proved that even when the store has firearms handy, crooks may come bearing their own guns. However, not all the bad guys made it out alive in Compton, California, when robbers entered a smoke shop armed and ready to do bodily damage.
Video released by the sheriff's department shows the criminals entering the store and approaching the front counter, which was being watched by a security guard. Other men walked in behind them moments later. The footage further shows one of the suspects pulling out a gun and pointing it at the guard. The guard immediately pulled out his weapon and shots were fired.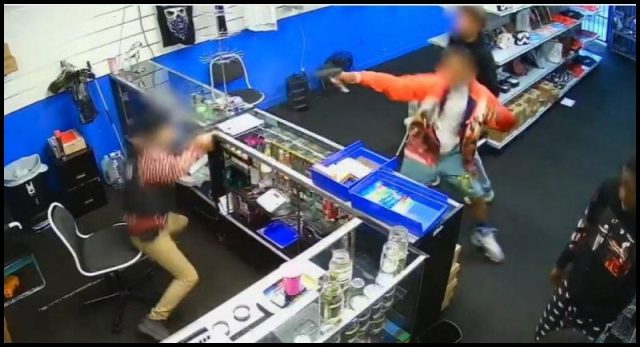 "The employee, who is an armed security guard, pulled out his own weapon, surprising the suspects, and a 'gun battle' ensued," KTLA News reported. "The men ran toward the exit, returning gunfire and tripping over each other, before running out of the store, video shows." Lt. Hugo Reynaga of the LA County Sheriff's Department weighed in. "They're pretty brazen," he said. "I'm assuming this is not the first time this crew has done this."
According to the sheriff's department, the guard was hospitalized after being shot in the face and neck but was later released. About 30 minutes after the shooting, deputies responded to Martin Luther King Hospital regarding a man who had been shot. Investigators later learned that person was one of the suspects involved in the armed robbery. "He was treated, but later died at the hospital," ABC News reported. Kahlel Malik Lundy, 23, and Keith Terrion Rachel, 21, were identified as the other suspects in the video and were wanted for murder, authorities said.
There isn't any doubt that thanks to having an armed security guard, the smoke shop employees were saved. The same can be said about the armed clerk at the Everest Food Mart. "Guns prevent an estimated 2.5 million crimes a year, or 6,849 every day. Most often, the gun is never fired, and no blood (including the criminals) is shed," according to reports and data. "Every year, 400,000 life-threatening violent crimes are prevented using firearms."
What else is astonishing is how the criminal mind works when firearms are involved. "[Sixty] percent of convicted felons admitted that they avoided committing crimes when they knew the victim was armed. Forty percent of convicted felons admitted that they avoided committing crimes when they thought the victim might be armed," it was also reported. Whether you believe guns save more lives when owned by civilians or that firearms should be illegal everywhere, the question becomes will criminals turn over their weapons? That answer is something everyone needs to decide on their own.