A gunman was caught on camera as he fired into a home amid a break-in attempt. Unfortunately for him, things didn't go as planned. Instead, the homeowner had a surprise of his own.
Erick Javier Contreras, a 39-year-old California man, allegedly tried to force entry into a victim's Hesperia home in the middle of the night, Fox 11 reported. Not only did Contreras try to force his way inside the home, but he also opened fire — shooting into the house amid the alleged break-in attempt. Little did he know, however, the homeowner had a gun of his own.
According to homeowner David Uresti, he and his wife awoke to the suspect — later identified as Erick Javier Contreras — pounding on the door of their home and demanding to be let it. "I run to the front door to see who it is," David recalled, "and then I see him … and he's trying to kick the door in, demanding to come in, and then I see him pull out a gun."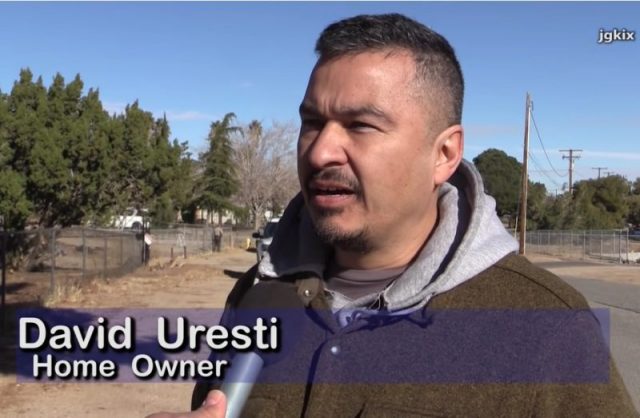 Indeed, a surveillance camera outside the California residence next to the front door of the home captured Contreras approaching the door of the Hesperia home and repeatedly kicking it at approximately 3:30 am on a Monday morning before shots rang out. Luckily, however, David Uresti had already prepared for the worst.
After hearing Contrera kicking the door, David retreated, got his own gun, hid his wife and child in a closet, and went back to the front door, The Blaze reported. That's when he says he saw Contreras "aiming" his gun at the door, and a shootout commenced with shots being fired by both the homeowner and the suspect, who were on opposite sides of the front door — and it was all caught on video.
In the surveillance camera footage, the suspect can be seen shooting into the front door of the home as the homeowner returned fire from inside. Following the 45-second shootout, Erick Javier Contreras gave up and retreated, getting back into his vehicle and driving away. However, he wouldn't get far.
Authorities arrived about five minutes after the shootout. Hours later, they eventually tracked down and arrested Contreras, who allegedly shot at another neighbor's house amid his getaway. After his arrest, it was determined that Contreras was a neighbor of the victim, living only a few doors away. The homeowner said he didn't know the gunman or have any previous interactions with him.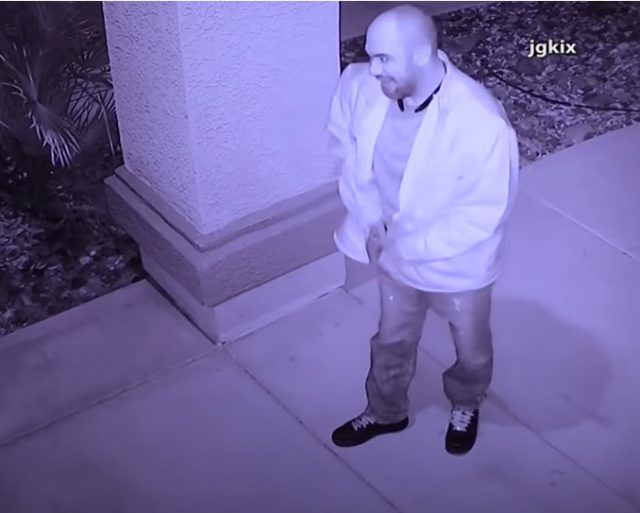 Contreras was charged with attempted murder, shooting in an inhabited dwelling, armed robbery, felon in possession of ammunition, and felon in possession of a firearm, ABC 7 reported. Court records show Contreras is a convicted felon and was on probation at the time of his arrest after a judge sentenced him to three years probation and 45 days in jail after he pled no contest to driving under the influence.
That was far from his only run-in with the law, according to the Daily Press. Contreras also previously served a three-year prison sentence after pleading guilty to inflicting corporal injury on a spouse or cohabitant in 2004. He spent 240 days in jail in 2007 after pleading no contest to driving under the influence of alcohol, and nine years later, he spent 180 days in jail, along with three years of probation, after pleading no contest to possessing, selling, or manufacturing a dangerous weapon.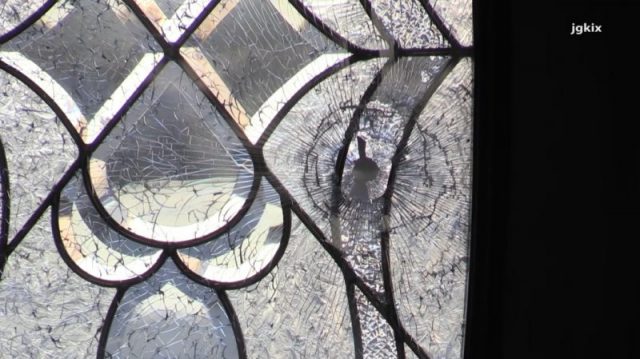 Based on the bullet casings, it appeared the intruder was armed with a .22 while the homeowner used a 9mm. Although the Hesperia home was left riddled with bullet holes in the walls and doors, thankfully, no one was injured. That might not have been true if the homeowner had not been armed and prepared to defend his family and his property.
This story, as well as the video footage, underscores the stark reality that one never knows when a gun will come in handy. After all, the authorities didn't show up until five minutes after the shootout took place. Had the homeowner not been able to return fire, we shudder to think what the outcome might have been. Luckily, thanks to the Second Amendment, we don't have to. In David's own words: "If I didn't have a gun, this guy could have hurt us really bad."