After a brutal beating was caught on video, five suspects were charged — one of whom was only 14 years old. As if that's not disturbing enough, at least one attacker had a message for the victim — and it should upset us all.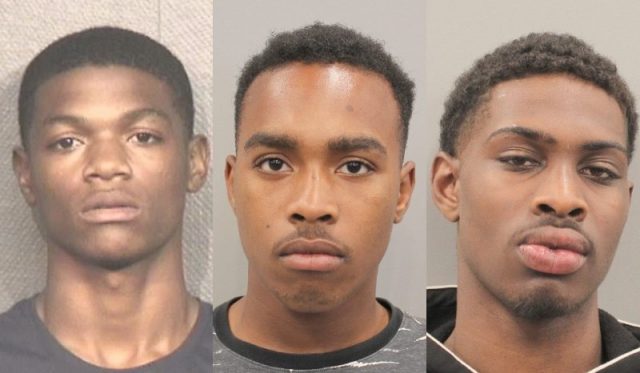 Eric Bradley and Ezkeyeleon Wilson — both 19 years old — along with 18-year-old Seth Coles and two unnamed juveniles — ages 16 and 14 — were charged with assault, according to ABC 13. The charges stem from a brutal beating that was caught on video outside a convenience store in Klein, Texas, where the five suspects mercilessly attacked an unnamed man in the parking lot at approximately 7 pm on a Sunday evening.
According to an earlier story from ABC 13, the victim was shopping at the Food Mart at 7134 Oakwood Glen Boulevard when a group tried to cut in line while he was waiting to buy some items. "I looked over and said, 'There's a line for a reason,'" recalled the man, who has only been identified as Mason out of fear for his safety, Click2Houston reported.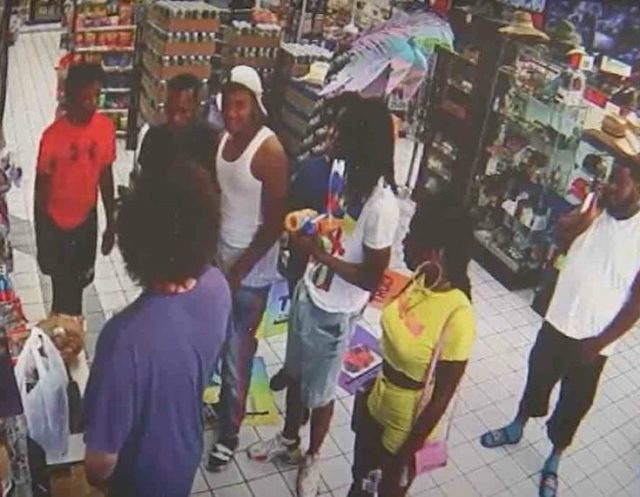 Mason said words were exchanged and the group mocked his hair and his clothes, but he thought that was the end of it. Sadly, he would realize he was greatly mistaken when he got to the parking lot and was soon subjected to a five-on-one beatdown — all while he still had his shopping bags in his hands, leaving him at a severe disadvantage.
After Mason paid and left, he found the group waiting for him in the parking lot, where they took turns kicking and punching him. The violent encounter was all caught on video, which shows Mason just taking the beating and not even trying to fight back or defend himself. "I don't know what else I could do," he said, admitting that he didn't even try to defend himself.
Just when Mason thought the beating was over, a fifth suspect exited the store and walked over to him as he sat on the ground and leaned against a car. The man drew his foot back and launched it at Mason's face. While kicking him in the face, the suspect sent him a message. "The fifth one at the end came out of the store after purchasing goods and came up to me and kicked me in the face and said, 'Black lives matter, [expletive],'" Mason recalled.
The target of the brutal assault walked home to his apartment, where his girlfriend called 911. Mason had suffered a swollen lip, bruising, and a cut near his eye, but according to Harris County Sheriff's deputies, he refused to seek treatment. It seems both he and his girlfriend are fearful of retaliation. Mason's girlfriend, who also asked to only be identified as Kelli out of fear for her safety, said she's received death threats.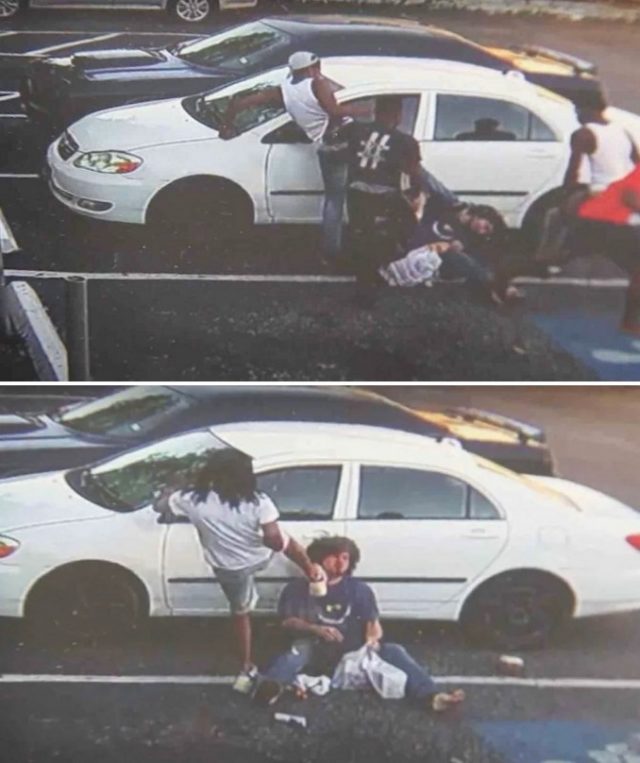 "I really hope they're caught before someone else gets hurt," Kelli said. "I hope that the people take this and don't say, 'It's white against black.' I don't want this to be the statement. I want it to be, 'Here's a man who was checking out and stood up for himself, and he was targeted for that,'" she added. However, the group may have already hurt others.
According to ABC 13's more recent story on the incident, investigators believe some of the suspects in the Food Mart attack are tied to another brutal assault that was also caught on camera and occurred only a few days later in southeast Houston. Video from the Houston attack shows a car backing up in a parking lot when it was hit by an SUV. The SUV's driver got out and was beaten unconscious by up to six people.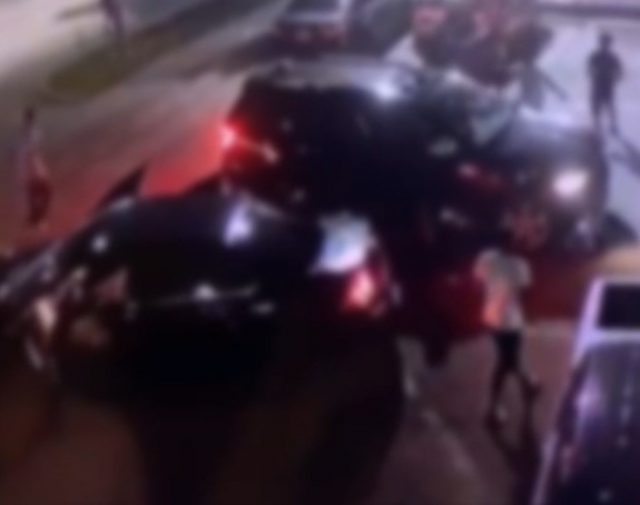 Although the "Black Lives Matter" movement has been the subject of controversy for quite some time, the message the suspect sent before kicking the victim in the face should upset everyone — including those who support BLM. It does black lives no good to have people in their community relentlessly attacking innocent citizens for no other reason than the suspects not being permitted to cut in line. In Mason's own words, "That's not what the movement is about." It's "not to be used as an excuse" for violence, he added.
Kelli agreed, saying, "It's really heartbreaking to see that being abused." Indeed, attacks like this one should be decried by everyone, including BLM supporters, who should agree that this is not what their movement is about. Anyone who doesn't condemn such actions is sending a message of their own, and that message isn't that "Black Lives Matter" but rather that innocent lives don't matter unless they have a certain skin tone. That's not a sentiment that anyone should support.