One triathlete sparked a heated debate after she posted a photo on social media of herself competing. The pic went viral after people noticed what was between her legs.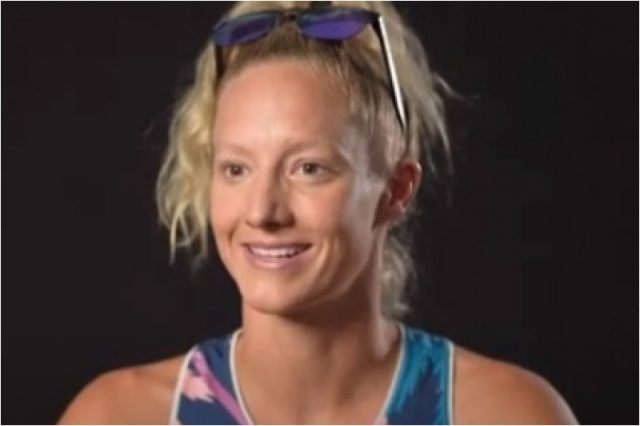 A professional triathlete promoted a race shot despite complaints that the perspective was not "flattering." Emma Pallant-Browne, a British multisport champion, was racing in the PTO European Open triathlon in Ibiza, Spain, when a photo of her went viral and prompted an online debate.
The British athlete was "celebrating" the photo of herself striding in a pink suit with a small blood smear between her legs. The Professional Triathletes Organization shared the shot on Instagram, and it received a comment that it could have been better "cropped."
Pallant-Browne responded to the critic, saying, "Thanks for caring but definitely something I'm not shy to talk about because it's the reality of females in sport." She continued to say that sometimes her heaviest period day fell on race days and that no tampon could contain it for the event's 3-plus-hour duration. "So just as someone might get gut issues in a race I have to suck it up and give what I have and not be afraid to talk to women who have the same problem," she explained.
The Female Quotient shared Pallant-Browne's reaction on Instagram. Many commenters stated that they didn't even notice the stain. "My eyes were drawn to her awesome shoulders and evident fierceness pushing through some hard-core work!" one wrote. Others responded that her period was a good sign. "As a coach, I see it as a sign of health. Racing at that elite level and still getting your period," another posted.
On Instagram, Emma Pallant-Browne, who placed fourth in the PTO European Open, said she was "humbled" by the numerous messages she received about the picture and the unglamorous reality of racing on your period. "This is true female sport and the more barriers we can break through the better," she wrote.
Because of the heat and the fact that her body temperature was higher during her period, Pallant-Browne raced in a light-colored swimsuit rather than a darker-colored tri-suit with built-in shorts. She said that many other race images did not show her period because she poured water on herself at aid stations. When that fails, she says, "you end up with one photo like this, but the idea of editing it means there is something wrong with it."
Pallant-Browne recalled her childhood memories with her menstrual cycle and expressed a newfound respect for it, calling it "beautiful." She advised others to embrace and cherish their own photographs capturing similar situations as memories of their resilience on difficult days, as they may inspire and help others.
Her story was met with an outpouring of support, with fellow athletes and fans praising her message and resilience. Skye Moench, a triathlete, praised the depiction of menstruation as a sign of feminine strength. Steph Twell, an Olympian, praised Pallant-Browne for her courageous authenticity.
However, even though Emma Pallant-Browne finished the triathlon in an impressive fourth place, some social media users couldn't get over the blood. "Wow! Menstrual blood is normal but to 'celebrate' it is going too far. Some things should stay private," posted one critic. "I get accidents happen but what she's saying is this probably could have been avoided."
Another wrote, "She should be applauded for her determination and athletic ability, not having a heavy period day. It's the same thing as a wardrobe malfunction on an entertainer. It's not her fault per se, but it's also not a good look." While the majority of online users gave Pallant-Browne major kudos for the photo, others had a difficult time surrounding the taboo of menstrual cycles and didn't understand the need to celebrate it.