A bodycam video captured the moments leading up to a high-speed chase and guns being drawn in a residential neighborhood after a woman was pulled over for not wearing her seatbelt. She had quite the excuse for police, but they'd soon find the real reason she wanted to get away from them so badly.
Emily Sindt Owings, a 28-year-old Oklahoma woman, was pulled over by police around 9 am on a Tuesday morning after Officer Geoffrey McBride noticed that she was not wearing a seatbelt, local police said. When McBride approached Owings' vehicle, she was unable to produce her insurance information or any identification, except for a medical marijuana card, but that wasn't the only problem.
After pulling the woman over in Enid and running her information, the officer conducting the traffic stop discovered that Owings was driving on a revoked license, the NY Post reported. The cop returned to the driver's side window of Owings' vehicle and informed her that her license was suspended and that he was waiting to see if she had any outstanding warrants. That's when the tearful woman began pleaded with Officer McBride.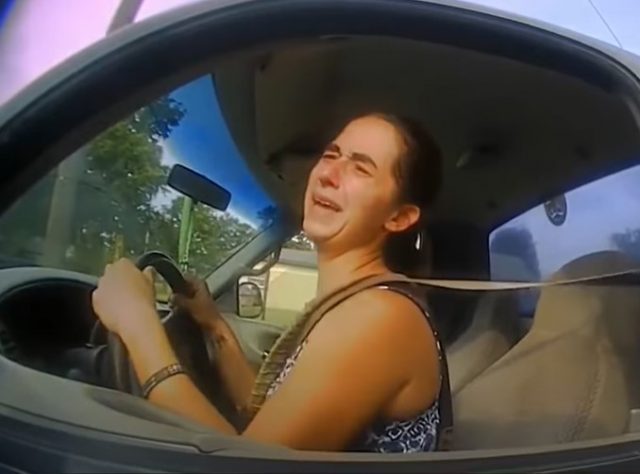 According to Owings' emotional defense, the police should let her go because she had "to poop so bad" and it was her "f**king birthday." Officer McBride and the Enid Police Department would soon discover that likely wasn't the real reason Owings was trying to get away.
"But I have to poop so bad," Owings tearfully tells the officer, begging to be released after he told her he was checking for outstanding warrants. "It's my birthday. It's my f–king birthday," she is heard saying in body camera footage of the encounter.
As Owings continued her impassioned plea, asking the officer why he won't "just let her go," he matter-of-factly responded, "Because your license is suspended!" That obviously wasn't what Owings wanted to hear, but she was undeterred. She continued to pout as she apologized, saying she didn't know her license had been revoked and promising that she "won't drive no more."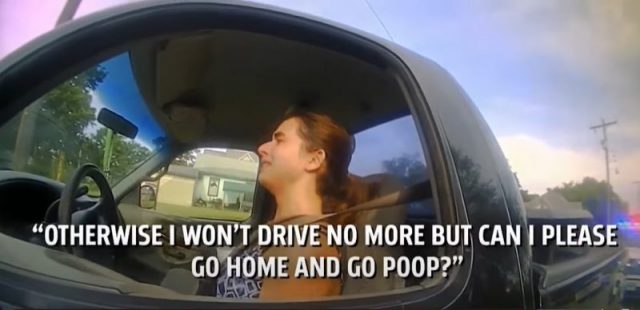 "Can I please go home and go poop?" Owings asks again, but it was too late. By this point, the officer had discovered that there was a warrant out for Owings' arrest for allegedly fighting an officer, according to police, and dispatch had already radioed to say Woods County would extradite. Informing her that she was under arrest, the cop then instructed Owings to get out of the vehicle, but she had different plans.
"You have warrants in Woods County, and they are coming to get you," the officer is heard telling Owings in the body camera footage.
Rather than comply, however, Owings refuses to cooperate. "No they are not! F**k you guys," she tells him after being told Woods County authorities were on their way to pick her up. Things then go from bad to worse as she speeds off, leading officers on a high-speed chase as authorities follow in pursuit.
The high-speed pursuit lasted several blocks with speeds topping 70 mph as Emily Sindt Owings blew through several stop signs and a school zone, according to KARK, but it was all in vain. Rather than making a quick escape, Owings only landed herself in more trouble. Realizing she wasn't getting away, Owings ultimately stopped and finally surrendered to cops, who had their guns drawn.
Keeping up with her crappy excuse for her prior behavior, Owings is heard asking an officer, "Can I poop in your car, man?" as she's escorted into a police cruiser. Not amused, the officer answers, "You could've already been on your way to jail!" Proving she just doesn't get it, she responds, "Yeah, but not pooping!"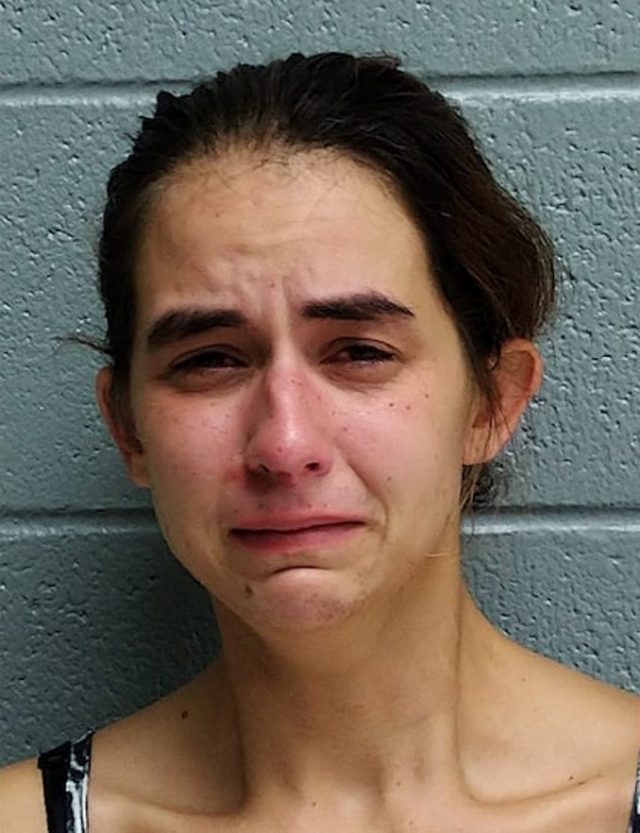 Fortunately for her, she was about to learn that there are toilets in jail, as well as plenty of time to take care of business as she sat behind bars. However, that's likely not the real reason Owings was so desperate to get away in the first place since police discovered a pipe containing meth when they searched her vehicle. To be fair, having methamphetamines in your possession when pulled over by police would likely leave a person about ready to poop their pants. I guess getting busted does do a number on the bowels.
Emily Sindt Owings was booked into the Garfield County Detention Center on charges including reckless driving, driving under suspension, and possession of drug paraphernalia, authorities said. In addition to her criminal charges, she will also live on in infamy as the woman who gave an impassioned poop plea to police, proving to other criminals that such nonsense isn't going to work in their favor.