After posting a wedding-day video of herself revealing her dress to her groom and guests, a bride was quickly criticized for showing "too much" skin on her big day. Rather than take the critique in stride, she lashed out at critics who hated the ensemble.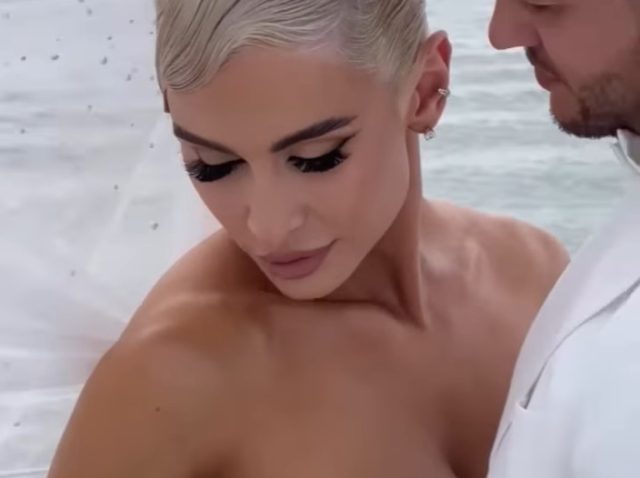 Ellie Gonsalves, a 33-year-old Australian model, actress, and influencer, married her long-term partner Ross Scutts during a lavish two-day wedding event that saw the blushing bride donning not one but three wedding dresses throughout the course of the celebration. It was one of those three dresses that quickly drew condemnation after the new wife posted a video of herself in it on social media.
First, Ellie opted for a "long-sleeved gown with an illusion neckline and a dramatic train" for her private wedding ceremony with only her groom in their Gold Coast hometown, the NY Post reported. The next day, the couple hosted a reception, where they were surrounded by their bridal party and other guests. During those festivities, Ellie donned two more dresses, one of which drew the ire of social media users.
After kicking off the party in a strapless white gown that featured floral detailing and a racy thigh-split, Ellie surprised her new husband later that night when she slipped into something more revealing. With cameras rolling, Ellie emerged from a doorway, entering the venue in "a white mini-dress made from see-through tulle and strategically placed lace," the NY Post explained.
Obviously approving of her racy ensemble, which she paired with silver strappy heels, the bride posted a clip of her grand entrance to TikTok and Instagram. "My husband's face when he saw me in this dress reveal at our wedding," she captioned the video. However, while her husband might have been a fan of the skimpy outfit, many social media users were not — and it's not hard to see why some wouldn't approve.
Admittedly, the corset-style dress with an even higher thigh-split than the previous gown looks like something a bride might slip into for her honeymoon after the guests have all gone home, but to each their own, right? Wrong. Although the bride and groom clearly loved the outfit change, online critics quickly weighed in, lambasting Ellie Gonsalves for showing "too much" skin and not being "classy" enough on her wedding day.
In fact, it didn't take long for the bride's posts to be flooded with "feral comments" that ripped her apart over her "inappropriate" dress choice, saying it was "too sexy" and "too revealing" for the occasion. Some even said they would be "ashamed" to be her husband. Another said she should "dress modestly!" However, rather than being unfazed by the opinion of others, Ellie lashed out at her critics, defending her choice and telling people to "pipe down" because she and her husband clearly "loved" the outfit change.
"FFs lighten up girl. It's a dress at a wedding of someone you don't know. Don't like it, change the channel. Simple as that," Ellie responded to one of her critics.
According to the bride, people should mind their own business and let her enjoy her dress, but that didn't stop the criticisms from coming in thick and fast. It wasn't long before the bride took particular offense with one commenter who slammed her for looking "fast and loose" on her wedding day. Fed up, Ellie decided to address that critic directly in a comment.
"The only thing that's fast and loose was your mum's hands when she dropped ya on your head as a child," Ellie fired back. Sharing a screenshot of her comment on Instagram, she added, "What's that phrase? If you dish it out, be prepared to take it? I can't believe people are getting so offended by a wedding dress."
Of course, there were also plenty of followers and fans who jumped to the bride's defense, perplexed by why others would be so "offended" by the outfit worn at a wedding that they weren't even invited to attend. "Why is it 'women can wear whatever makes them happy' etc, until it's someone with a banging ass body," one quizzed, seemingly alleging that the naysayers were just jealous that the bride could rock such an ensemble.
"For those judging her dress and moral concern for what a wedding means… She didn't plan your dream day, she planned hers. She looks incredible," another pointed out, while yet another added, "People talking about 'there's no intimate privacy' like they don't wear less at the beach or the pool. Grow up. This is her day, not yours."
What if both sides are right? As the bride, Ellie Gonsalves can do whatever she wants on her wedding day, and only her groom's opinion should matter. However, there's no rule that says everyone has to like it. After decades of social media, we should all realize that people will voice their opinion when you put something out into the public sphere. When you share private moments with the world, you invite the world to share their thoughts about your private moments. If you don't like it, perhaps it's time to adjust those privacy settings.