After leading police on a high-speed chase, the fleeing suspect allegedly fired a gun at police officers, who then fatally shot him. However, a Facebook Live video captured one officer's comments, prompting calls for an investigation and leading to the officer's suspension.
While engaging with viewers on a Facebook Live video titled "High speed chase lol," 21-year-old Dreasjon Reed fled Indianapolis Police in his vehicle, reaching a speed of 90 mph on Interstate 65. Reed then recorded himself stopping his car and fleeing on foot, urging viewers to "come get my stuff" from his abandoned vehicle.
At this point, an officer deployed his Taser but failed to impede the fleeing suspect, The Washington Post reports. An officer could then be heard yelling for Reed to stop before the suspect replies "f— you!" According to the police, he brandished a gun and fired upon the officers. An officer then returned fire, killing Reed on the scene.
However, one particular detail has prompted calls not only for an investigation into the shooting but also for a murder charge to be brought against the officer. With the video going viral on social media, viewers have expressed outrage over an officer allegedly stating off-camera, "I think it's going to be a closed casket, homie," Indianapolis Star reports.
Indianapolis Metro Police Department (IMPD) Assistant Chief Chris Bailey confirmed that investigators are aware of the suspect's video recording and that an investigation has been launched. The officer who shot Reed was immediately placed on administrative leave, per protocol. However, outrage continued to swell as a mob of up to 150 protesters descended on the scene.
"Murder! Murder! No justice, no peace!" chanted the protesters.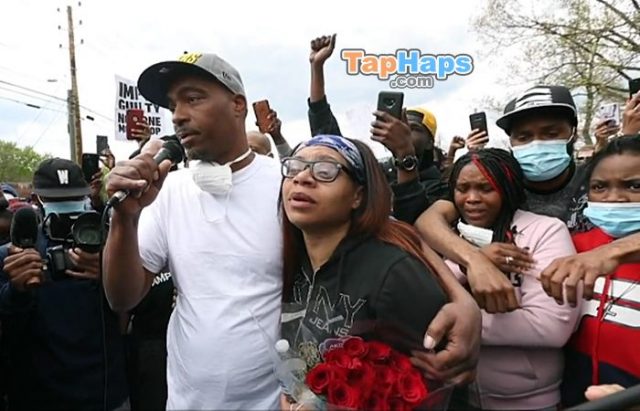 The IMPD confirmed that the officer who allegedly made the comment has been suspended from his position and reassigned, WTHR reports. Still, Reed's family and supporters won't be satisfied until the officers involved in the shooting are punished for his death.
"They could've tased my brother, beat him up," Jazmine Reed, the suspect's sister, told WTHR. "I could've talked to him on the phone. We could've did video chat. He could've been behind bars but now I gotta look at him and he's going to be in a casket the next time I see him."
The controversy surrounding the incident prompted investigative journalist Andy Ngo to dig into the case. Ngo uncovered a series of photos and videos showcasing Reed and his friend McHale Rose, who was also fatally shot by police during an armed confrontation. Rose allegedly called 911 to lure police into an ambush and fired at responding officers with a rifle. Ngo also published text messages in which Reed admits to being a felon and, therefore, not legally being allowed to own a firearm.
Dreasjon Reed also recently posted a first-person video on his Facebook of what looks like him committing a drive-by shooting. The gun in this video appears to match the gun seen in his live stream during the fatal police chase yesterday. https://t.co/9YgUcEaYWD pic.twitter.com/DaCbjayCjl

— Andy Ngô (@MrAndyNgo) May 8, 2020
"Sean" Reed just a week ago said he was a felon and could not legally purchase a gun. pic.twitter.com/6zGrb85XyP

— Andy Ngô (@MrAndyNgo) May 9, 2020
Despite allegedly firing upon police officers, Dreasjon Reed and McHale Rose's deaths have sparked protests and calls for murder charges. Supporters have utilized civil unrest and racial division to escalate outrage toward law enforcement officials.
Although the unnamed officer has been disciplined for his insensitive comment, civilians continue to demand serious charges and jail time. Unfortunately, no amount of evidence is expected to quell those insisting that the shootings were calculated and racially motivated murders.