After a black man was fatally shot by police officers, his family went to the media to accuse the police of murdering their son. Days later, the police department presented the bodycam footage to the family.
In the aftermath of a deadly police-involved shooting, a family has taken to the press to ensure not only that their son's name is known but also to expose what they assert was a cold-blooded "homicide" by the police. During a press conference, Desmon Ray Sr. and Lashonda Wilson, the parents of 28-year-old Desmon Montez Ray Jr., lambasted Birmingham police over the death of their son.
"I just want to see my baby. I don't know whose body I'm fixing to see," Wilson said. "I want answers. The world gonna know Desmon Ray. I'm never going to see my baby no more walking through the door telling me he loved me."

"We can't beat the police, but we need help because we need justice for this wrongful death of Desmon Montez Ray," the father said.
Local activist Frank Matthews, president of the Outcast Voters League, joined the presser to accuse the police of targeting Ray and stealing $10,000, Al.com reports. He then outrageously claimed that the homicide rate in the black community is abnormally high because of policing.
"He (Ray) had $10,000 in his pocket. We don't trust Birmingham police. We want to know where's the $10,000? Was it a shakedown? Because it went down," Matthews said. "The father told me specifically he had $10,000 in his pocket. For whatever reason, that ain't your business. This family needs some justice."

"If you want crime to stop," Matthews said, "stop the police from killing."
Once the media began picking up the parents' accusations that their unarmed son was gunned down by bloodthirsty law enforcement officers, the police department released the bodycam footage to the family. Contrary to their claims, the video painted a completely different narrative.
According to the department, Desmon Montez Ray Jr. crashes his vehicle while evading the police before pulling a firearm and shooting at officers, which can be heard on the video. Seconds later, police return fire, hitting Ray.
On those videos, you can hear and see the pursuit and then hear one of the officers say over the police radio, "He wrecked out." Moments later, there is a single gunshot, and the officer says, "Oh, hey, shot…" and can't finish his sentence before the return fire takes place. "Shots fired. Shots fired. 10-33 (police code for officer needs all possible assistance). We've got one down. Show your hands. Show your hands."
Police repeatedly ordered Ray to raise his hands and stop moving toward his firearm, which they say was at arms-length. The suspect ignores their commands and continues moving. The officers then attempt to get Ray emergency medical treatment but are unable to secure the scene, as the firearm is still at his side. Even though Ray continues to disobey orders, they manage to get close enough to him to get the gun away and offer him medical treatment. He was pronounced dead later at UAB Hospital.
"The officers are telling him not to move. You will see several times he continues to move,'' the chief said. "At one point, he lifts his body and raises his hand." An officer is heard saying, "he fired one round at us." They continually report that Ray is still armed, and still moving.
Birmingham Police Chief Patrick Smith confirmed that the footage corroborates the officers' testimonies. He also offered his condolences to Ray's family.
"Let me be clear, there's not a member of this department who wants to take anyone's life. Our goal is preservation of life, and we want to be respectful to everyone,'' Smith said. "We extend our condolences to the Ray family, but we have to make sure that we're putting out the information that is necessary and relevant for the greater good of our community."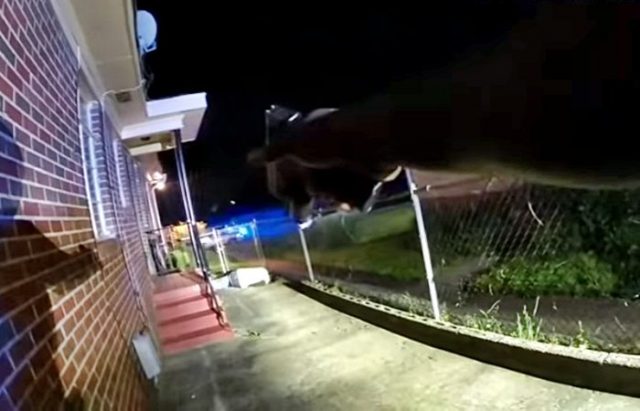 Although the family reviewed multiple videos of the incident, they refused to blame their son for any wrongdoing. However, they changed their story somewhat.
"If Des was wrong, I can accept that but I know in my heart that my baby ain't pulled no gun," Wilson said. "Why he couldn't have been tased? My baby was shot in the back. It took 30 days for the chief to reach out to me. I don't need it, I don't want it, I'm not going to accept it. My baby did not deserve to be gunned down."
The family, their attorneys, and even Black Lives Matter activists maintain that Ray was shot in his back and, therefore, was killed while retreating and posed no threat to the police. However, there have been instances in which suspects have shot at officers while fleeing, making an autopsy report seem as though they were simply running away.
"Why in the hell was there between eight and 11 shots fired at one individual. In his back," BLM Birmingham co-founder Eric Hall said. "No man should be shot in the back. We're tired of Black men being killed for simply running away."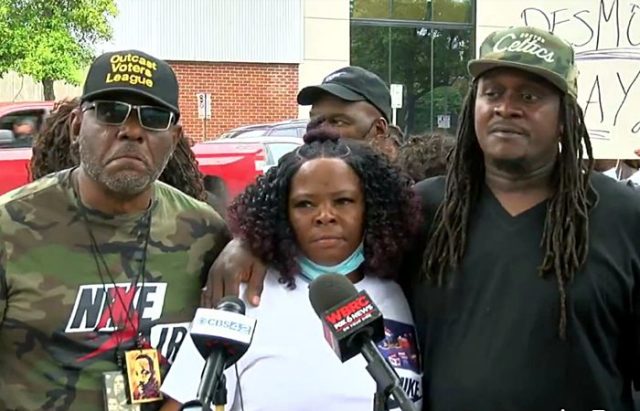 The family continued forward with a campaign for justice and a possible wrongful death lawsuit. They have made numerous accusations, including that the officers involved targeted their son because of race or money. The only explanation they haven't considered is that their son evaded the police, disobeyed lawful orders, and shot at officers.
The most disturbing aspect of this case is that the family, activists, and media are contributing to the deaths of black men by perpetuating the false narrative that the police are out to kill them no matter what they do. This type of propaganda compels individuals to put themselves in further danger by resisting and fighting, which is always an unwinnable option.