Is age really just a number? Fitness guru Denise Austin seemed to tackle that very question when she shared a before and after photo on Instagram, featuring the celeb — at the age of 66 — wearing a hot pink swimsuit from 30 years before.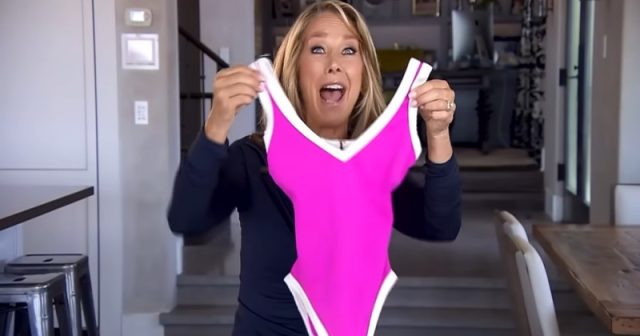 Fitness guru Denise Austin quickly turned heads when she took to Instagram to share a then-and-now picture of herself in a swimsuit that she wore while filming "Getting Fit with Denise Austin" 30 years prior. The photos, which featured the workout video legend sporting a pink one-piece with a white trim border as she posed on the beach, seemingly proved that age is just a number.
"Flashback Friday!!! WOW!!" Denise Austin's caption on the side-by-side photo began. "What an incredible memory to look back on!! This Then and Now brings back such nostalgia…I wore this suit back in the '90s while shooting my TV show!! How many of you remember watching???" she asked her Instagram fans.
Saying she feels as self-assured and able-bodied as ever before and that the swimsuit reminds her of how far she has come, Denise continued her caption, "I still feel as confident and fit as ever and love that I have this suit to remind me how far I've come!! Longevity baby!!! Thank you to everyone that has always supported me.. THEN and NOW!!!!xoxo."
Of course, fans were quick to respond to the images, flooding the comments with sweet words and sharing nostalgia for Denise's show, which was canceled in 2008 by Lifetime. However, reruns have continued to air. "My mom and I worked out to your show multiple times a week. I have very fond memories!! Looking fab in your hot pink suit then and now," one such fan wrote.
Denise, who hopes to inspire women when it comes to their bodies, seemingly did just that with the before and after photos. "I have been doing your tapes for 30 years. My daughter just got married, and I was the same weight as when I got married," another proud fan of the show wrote, sharing their appreciation for Denise's fitness videos.
Indeed, many seemed to love Denise Austin's positivity and commended her in the comments, sharing both their excitement and appreciation. "Wow you are so inspiring And very beautiful love your positive VIBES," one user wrote, while another added, "Life goals!!!
Proof of what a healthy diet and exercise can do!!!!" And, since fans seemed to love the before-and-after-theme, Denise posted another.
Some even shared their surprise that the fitness guru, who recorded several fitness videos and wrote a few books on how to stay in shape, including "Pilates for Every Body," looked even better in her 60s than she did in her 30s. "I'm thinking she looks even better now," one fan noted, applauding Denise for her "lifelong commitment to a healthy lifestyle" and her "great, positive energy."
Age certainly hasn't slowed the celeb down. In 2022, Denise Austin walked the runway for the Sports Illustrated Swimsuit Runway Show in Miami with her then-29-year-old daughter Katie, who has followed in her mother's fitness footsteps. It was an incredible accomplishment, and that fact wasn't lost on Denise. But, first, the footage. Can you even tell which is the mother and which is the daughter?
"For [SI] to even ask me at 65 years old to be in a bikini — I mean, it was a huge thrill, and I just went for it," Denise told Fox News. "What the heck?" she added, sharing her own surprise and saying that she hoped she could inspire women and show them that it's never too late to take fitness seriously and get back in shape.
"I love what I do, and I feel like I can help women out there feel better about themselves. Exercise, eating right, having a good attitude, a good night's rest – all of it helps with that healthy lifestyle," Denise explained. "I want women to truly try their very best to eat healthily and to move more. That's my message. I have always said that for all these 40 years, just do the best that you can. That is the key."