An abortion-rights advocate decided to take a pro-choice stand on her college campus, but things didn't go as planned. She was soon crying, begging, and pleading with a college police officer as he told her to drop her backpack and put her hands behind her back — and it was all caught on video.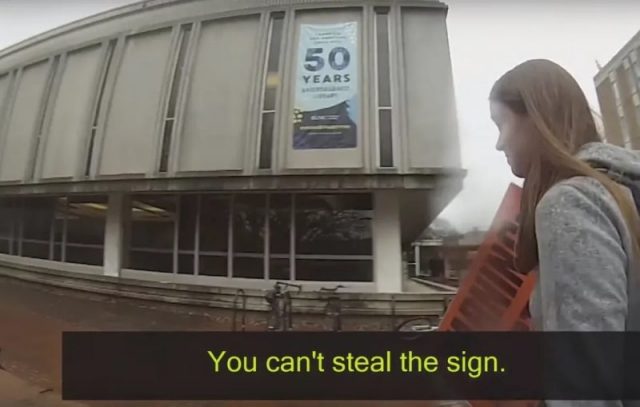 Create Equal, a pro-life group, was set up outside of the University of North Carolina at Chapel Hill when a woman from the college became offended by their sign. She decided to make her displeasure known, but her protest didn't go as she had hoped. The abortion-rights foot soldier carried out her mission, ripping the sign from the pro-life activist's hands, but she quickly paid for her actions with a tearful arrest, The Blaze reported.
In protest of Create Equal, the unnamed woman grabbed the sign from a pro-life activist and started to walk away with their property. An activist followed, recording her actions on video. As she made her way across campus, the man recording the ordeal saw an opportunity, calling out to a nearby police officer. Very soon, the woman learned she had made a big mistake as the video from Create Equal captured her encounter with law enforcement.
Within seconds of the pro-life activist calling out to the officer and accusing the woman of stealing their sign, she's confronted by the cop. The sheepish-looking student immediately begins to plead her case, claiming she didn't do anything wrong and making it clear she felt the pro-life activists were the problem. "This restricts women's rights," she tells the officer as she taps the sign. "He's promoting lies on college campus where I go!"
She denies stealing the sign, saying she had only moved it and that she was going to give it back. Unfortunately for her, she has a bit of trouble convincing the cop that her motives are pure as she attempts to keep the sign from the activists. With it behind her back, she leans against it, pinning it between herself and the railing behind her. After being told to get off of the sign before she damages it and seeing it handed back to the activists to whom it belonged, the student voices her disgust, saying, "I can't believe y'all protect them."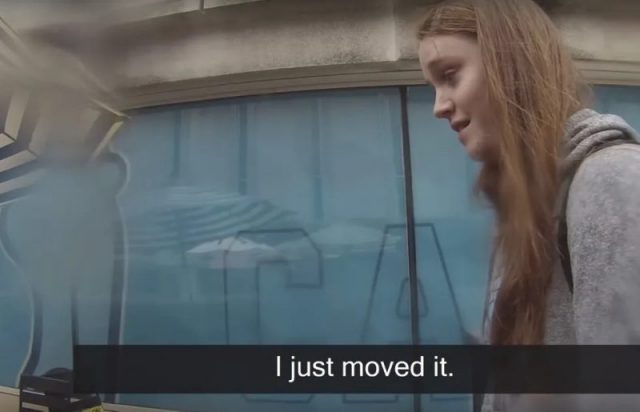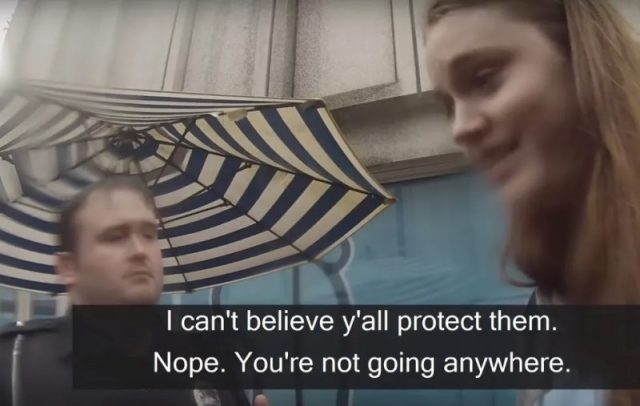 She tries to leave the scene but quickly finds out she isn't going anywhere when the officer cuts in front of her to prevent her from leaving. "Nope. You're not going anywhere. Right now you're being detained, okay?" he tells her. She incredulously demands he tell her "for what," but she doesn't like his answer. "Larceny," the officer says. "You stole his sign." She tries to argue that the activist has his sign back and that she had only moved it 50 yards, but it's all in vain.
"I don't care if you moved it one foot," the cop responds. "You don't have a right to take someone's property, okay? Period." As she tries to explain that she wasn't "trying to get arrested," the officer is unfazed, asking her if she has an ID, which she says she does not as she questions whether she's being arrested and promises she won't mess with the sign again. When the officer asks for her ID again, she finally coughs it up, but not without complaint.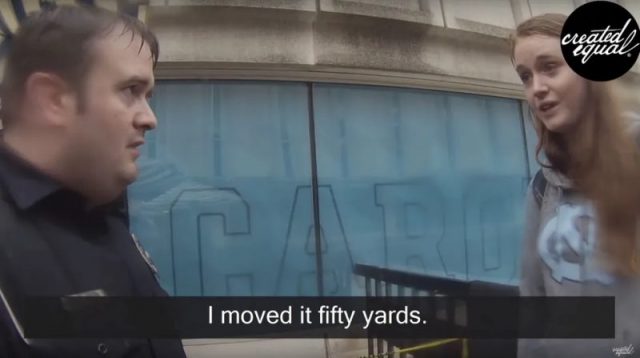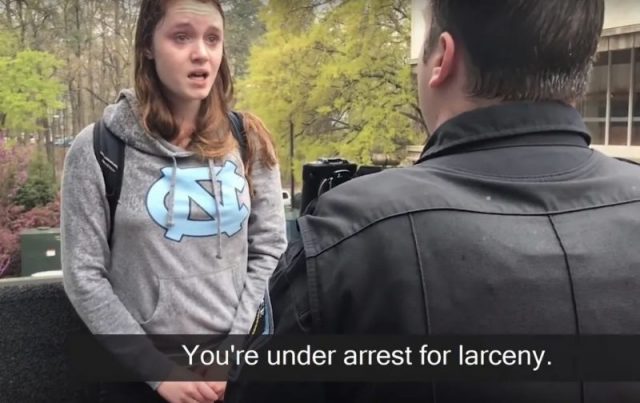 "I cannot believe these are the people you protect," she says. "Do you see us being subjected to this s**t?" The officer gently explains that she doesn't have to watch pro-life demonstrations and suggests she ignore them to "take away their power," but she continues to protest. "They're here because they want us to watch them," she shoots back. "It doesn't matter how much you ignore 'em; they're gonna come back," she adds. "This is why women have such a problem getting abortions in North Carolina, and y'all just let them get away with this s**t."
All of her begging, pleading, crying, scolding, and rationalizing doesn't do any good, though. "Put your arms and hands behind your back," the officer tells her, instructing her to take her backpack off and put it down so she can do as she's told. "You're under arrest for larceny," he adds.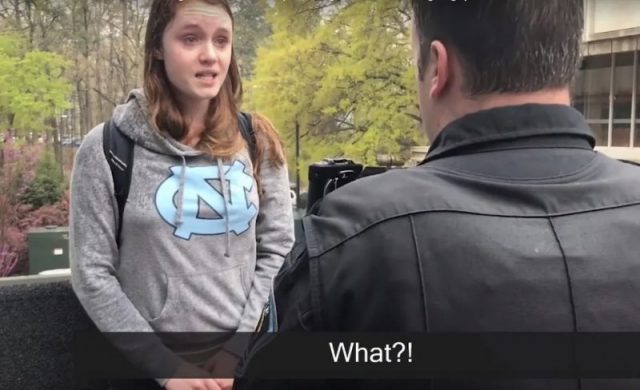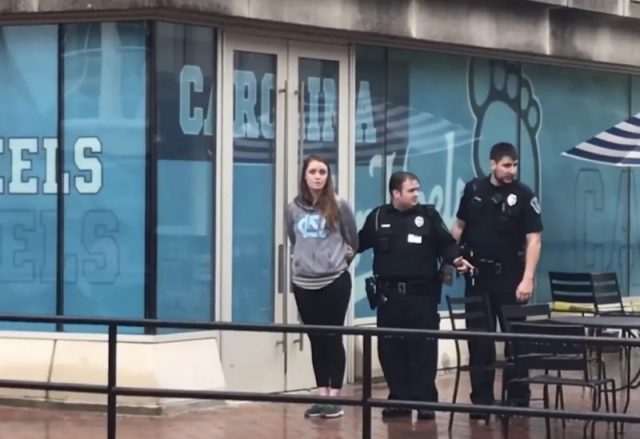 "What?!" she exclaims, obviously stunned. "I cannot believe this is happening," she says as she continues to insist she was "going to give [the sign] back to him." After begging and asking, "Is there something else that I can do?" the officer simply says he can't "un-arrest" her before treating her to a set of handcuffs and a slow walk of shame.
She learned the hard way that her time to do something else had already passed. She missed that opportunity when she refused to keep her hands off of other people's property. Maybe next time, she will follow the officer's advice and ignore those with a difference of opinion who are well within their legal right to express themselves. Let this be a lesson to others who might find themselves offended. There's a right way to handle it — and then there's the way that leads to an arrest.