After a judge helped her violent brother blackmail his victim, she was forced to stand trial for the abuse of her power. However, as soon as she was sentenced, her entire family erupted in rage and she was dragged from the courtroom in an outrageous display.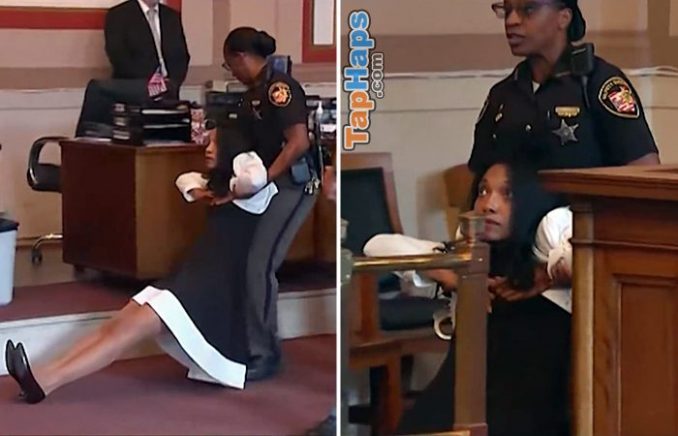 While serving as a juvenile court judge in Ohio, Tracie Hunter used her position of authority to help an alleged criminal blackmail his underage victim. Her brother, Stephen Hunter, was working as a youth correction officer in the Hamilton County justice's district when he was accused of hitting a minor while on duty.
Understandably, Stephen's employer recommended that he be terminated. It was then that Tracie used her power to obtain confidential documents about the minor victim, using them to prevent her brother from being fired. Along with 8 other charges, the disgraced judge was charged with leaking the information and having an unlawful interest in a public contract, which is a felony.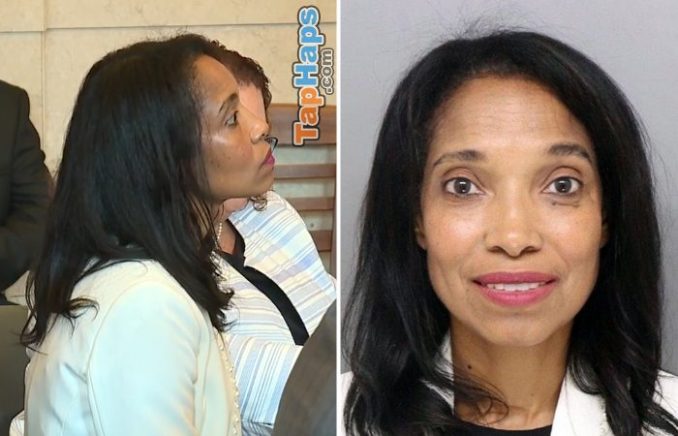 Tracie Hunter was ultimately sentenced to 6 months behind bars but used the next 5 years to remain free while repeatedly appealing the ruling. However, when a no-nonsense judge made the final decision to force her to serve her sentence, she and her supporters were there to make utter fools of themselves in a fruitless endeavor.
As soon as Common Pleas Judge Patrick Dinkelacker announced that he'd uphold Hunter's previous conviction of 6 months in jail, the ex-judge's family members and supporters began screaming, wailing, and rushing the front of the courtroom, threatening to "burn" the city. Hunter is then captured on camera falling limp as a deputy attempts to escort her out, childishly forcing the female officer to drag her away, according to WCPO.
"She passed out," someone yelled, but Hunter appeared to be conscious. She looked around and flicked her fingers as the deputy dragged her from the courtroom.

"This city is going to burn," someone shouted.
Just before giving his ruling, Judge Dinkelacker revealed that he had received dozens of letters, most of which were anonymous, demanding that Hunter be absolved of her crimes. He explained that some of the letters were threatening but added that he would not be intimidated to stray from justice.
"I will never, ever, ever bow to that type of pressure," Dinkelacker said.
Expectedly, some of Hunter's supporters twisted her abhorrent crimes for their own narrative, making the court's decision about race rather than justice. Bishop Bobby Hilton, who is also president of the Greater Cincinnati Chapter of the National Action Network (NAN), claimed that "blacks are not respected" in Hamilton and suggested that white people are targeting "our people."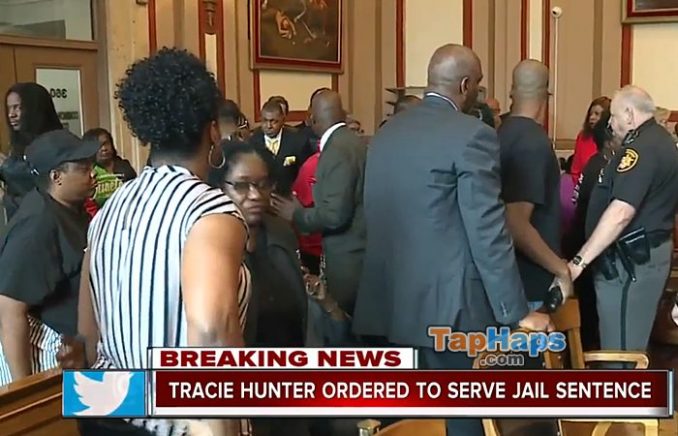 Protests erupted outside of the courtroom as well as inside the chambers. Supporters wore shirts that read "Justice for Judge Tracie M. Hunter" and carried signs stating that "Hamilton will not silence me!" One woman charged toward Hunter as she arose from her chair to be escorted away by the bailiff. The woman was subsequently led away in handcuffs before she could reach the defense table.
Allegations that Hunter is being mistreated in prison are under investigation by the Hamilton County Sheriff's Department, AOL reports. Like her supporters, Hunter maintains her innocence and insists that the charges brought against her were politically motivated.
"I violated no laws, I did not secure a public contract, I did not secure employment for my brother who worked for the court for about seven years before I was elected judge. They need to drop these unrighteous and I believe unlawful charges against me," Hunter told NBC affiliate WLWT in Cincinnati on Sunday.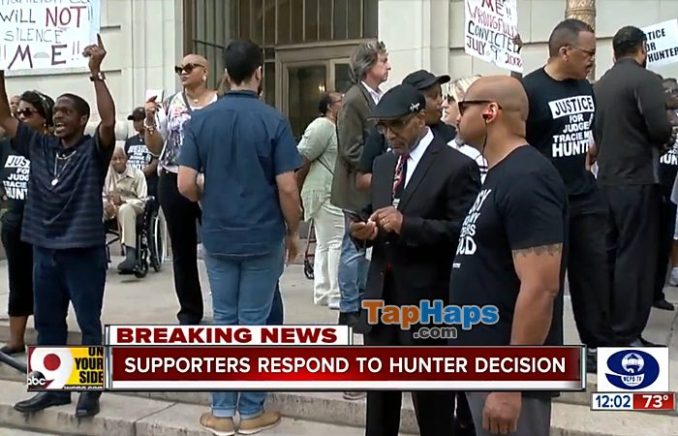 With great power comes great responsibility and, therefore, great punishment for failing to uphold such a position with honor. Hunter's abuse of power was more egregious because of her authoritative position, and she must be held to a higher standard.
Judge Dinkelacker's decision was undeniably just, as it bolsters the reality that judge's hold a significant amount of power over the people's lives. As such, the tolerance of even the slightest misappropriation has long-lasting and grave consequences for the people under their judgment.