A college student decided to run up and smack a police horse on its backside. She was instantly served up a big dose of karma, and it was all caught on video. Did she deserve it?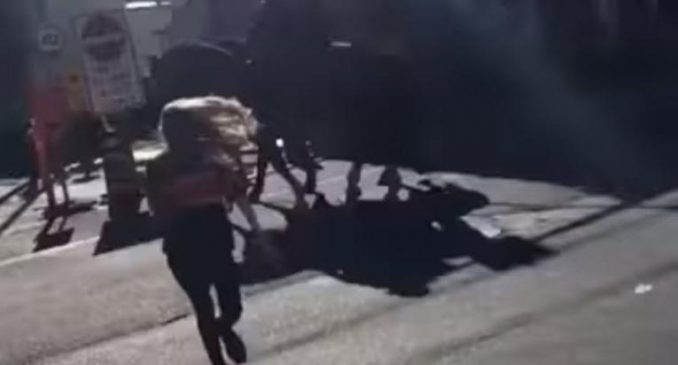 An unnamed young woman from Queen's University in Kingston, Ontario found out exactly why it's a bad idea to disrespect members of law enforcement, especially when that "officer" has hooves and packs a nasty kick. There's little doubt she decided to pull her stunt for attention, and she's getting it, but not in the way she had hoped.
With cameras rolling, the wannabe badass student bolted towards the police horse, much to the amusement of her friends. But, their chuckles would quickly turn to gasps after her hand made contact with the horse's rear end as she smacked its hindquarters. She turned to run away, but she didn't get far.
The incident above was one of a slew of horse-slapping incidents in the area. "Disappointing news from #QueensHomecoming. Our new horse, Murney, was slapped 3X tonight. No injuries. 2 men & 1 women charged criminally," the Kingston Police Department announced on Twitter.
Caught on camera in broad daylight, the unnamed university student ran towards two mounted police officers in the middle of the road. In the now-viral video, the unidentified blonde girl — dressed in a dark Queen's polo shirt with the signature red and yellow stripes — slaps the closest horse on the rump. She wasn't expecting what happened next, however.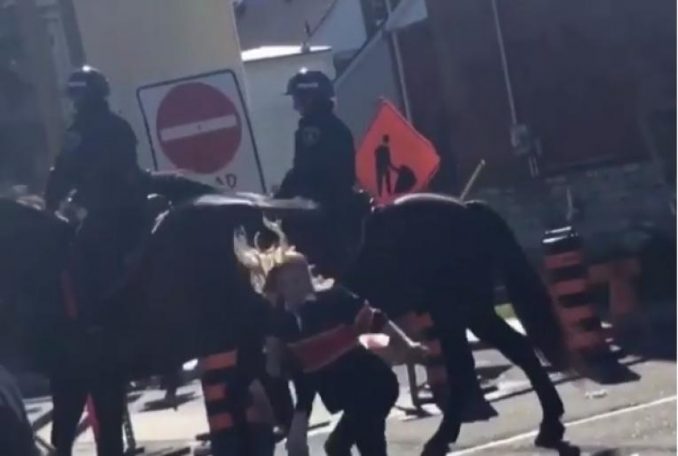 A split-second after making contact with the horse, she turns her back to run away, but she's not fast enough. Receiving her comeuppance, the woman suffers a blow to her own backside as the police horse kicks her with its powerful hind legs. She's sent sprawling face first onto the road as onlookers gasp. A pal quickly comes running to her rescue, but it's too late.
Seemingly finding herself to be the one embarrassed when her intentions were apparently to humiliate the cop and the horse, the woman picks herself up off the ground before staggering out of view. With her hands firmly pressed to her face, it seems the incident likely left its mark, but it's too difficult to determine the extent of any physical injuries. Her ego is likely irreparably damaged, however.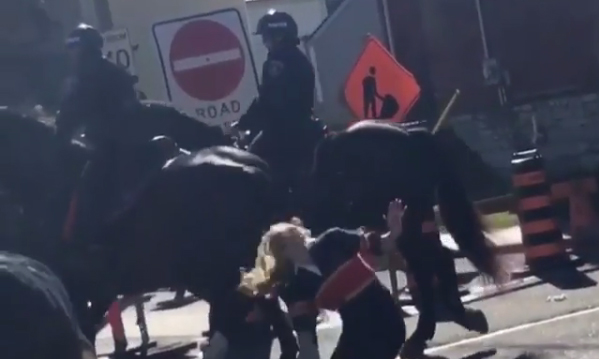 The woman's dose of karma was actually quite mild compared to what it could have been, the officer riding the majestic creature explained. According to the cop, the horse, whose name is Murney, "kept her restraint" despite being "startled by slaps" and still being in training. In fact, Murney's response to being slapped by a person who had run out of nowhere was uncharacteristically muted since she didn't buck or bolt. But, the student was far from unscathed. Not only is she now notorious on the internet, but she might have also found herself in legal trouble as well.
"Police won't confirm yet if the young woman who got bodied in the video is one of the three people being charged in relation to multiple horse-slapping incidents at Queen's University's homecoming in Kingston, Ontario. However, a female student at Queen's is being charged — along with two men, who also apparently slapped a police horse," Vice reported. "The criminal charges they're facing are due to injuring a law enforcement animal, which is a new addition to the Criminal Code. Their identities have yet to be released. If found guilty, the maximum penalty of that law could carry five years in prison."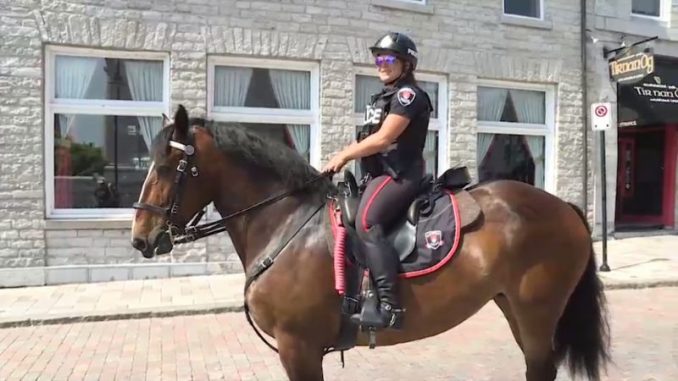 In addition, the trio could have received individual financial penalties of up to $10,000 each, according to Global News, since the three accused were going to be charged with Injury to Animal. But, they might have gotten off easy.
"What will happen with all three accused, in this case the two men and the 18-year-old female, is that charge will be withdrawn and we will be going with the charges of mischief and obstruct police by interfering with a lawful execution of their duty," Steve Koopman, a constable with the Kingston Police Department, later said, according to the Queen's Journal. But, that doesn't mean they got away scot-free.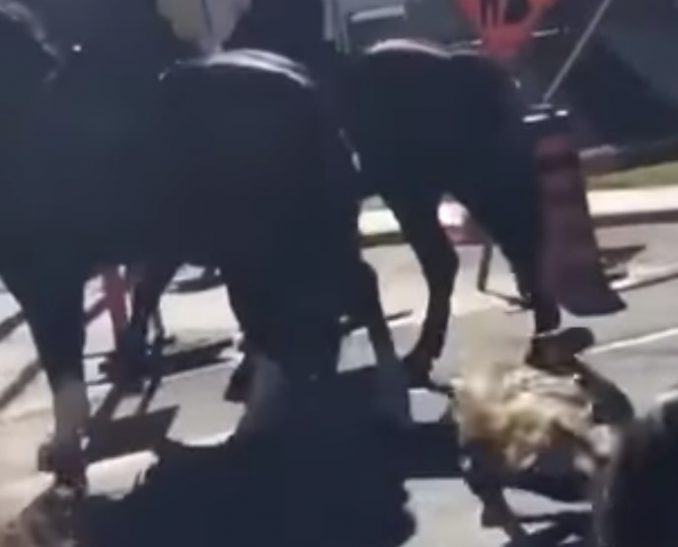 Although the original charges were dropped and new ones were made, Koopman explained that the three accused could still receive any combination of jail time and fines, as well as potential probation. "There is the potential that they could be found guilty and technically have a criminal record," Koopman said.
Sometimes, we get exactly what we asked for but not in the way we had hoped. This college girl, no doubt, hoped to make a name for herself. She thought she'd be cool, known as the brazen babe who dared to take a shot at a police officer's horse. Instead, she's the coward who picked on an innocent animal and paid the humiliating price.