When a masked man with a handgun walked into a restaurant intent on committing a robbery, he made a big mistake. On that evening, a newly married couple happened to be there on date night, and this husband and wife team were also armed police officers. They sprung into action, and it was all caught on video.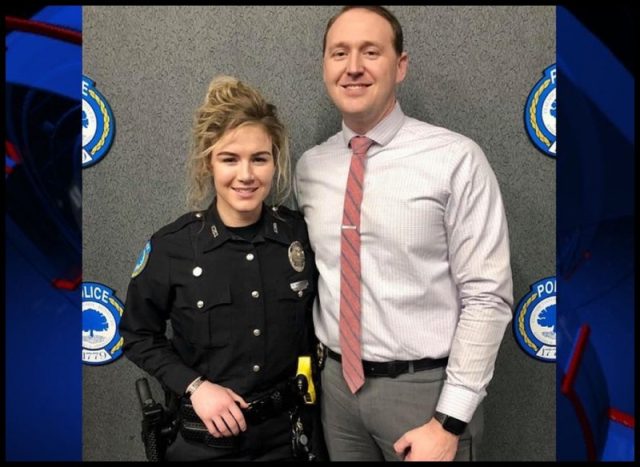 Detective Chase McKeown decided to take his wife Nicole out to eat at one of their favorite places on a Saturday night. The off-duty Elizabethtown Police Department officers, who had only been married for six months, believed that having a weekly "date night" was one of the keys to a strong marriage, so they headed out to Raising Cane's Chicken Fingers restaurant.
"At our church, we've been focusing on marriage," said Chase, adding that his church emphasizes having a "date night" once a week. Nicole said the decision to eat at Raising Cane's was a no-brainer, as it was the first place they ate after their wedding, WDRB News reported. However, both officers say they didn't expect what happened next.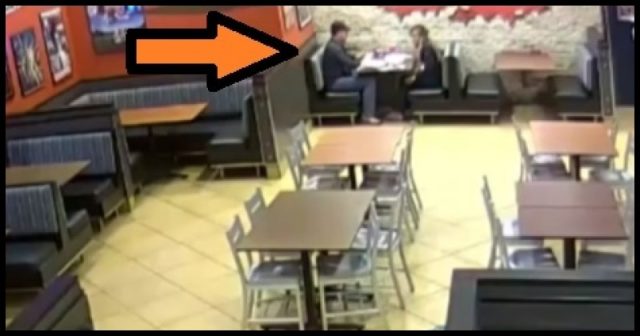 According to an arrest report, 30-year-old Justin Carter walked into the restaurant wearing a mask just after 10 pm. Police say he pointed a gun at the cashier and demanded cash. Thankfully, Chase and Nicole McKeown were there, enjoying their meal. "I think we kind of both saw him at the same time," Nicole said.
However, the newly-wed bride claims initially she thought Carter might be sick, but as she continued to watch, she realized there was something more sinister happening. That's when she turned to her husband. "I looked at him and said, 'Is he doing what I think he's doing? That's kind of odd,'" she recalled. That's when the cop couple realized the restaurant was being robbed.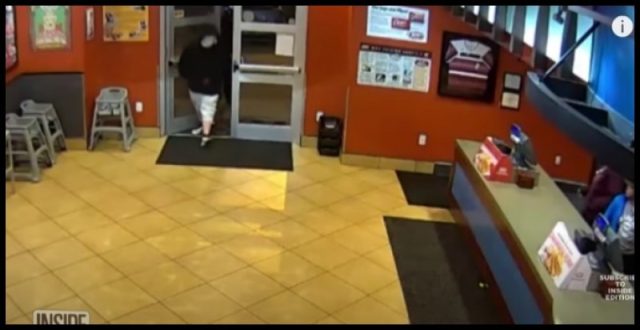 At that point, Nicole said her husband was going to take Carter on by himself, so he handed her his cell phone and told her to call 911 – but she wasn't about to sit on the sidelines. "No — I'm gonna help my husband!" she said. From there, the cop couple reacted quickly, drawing their weapons and circling the center tables to converge on the would-be robber.
"There was literally no question. We just looked at each other: 'Is this what's going on? Let's go,'" said Detective McKeown. He said their police instincts took over, adding, "We just did what we felt like we had to do." According to CBS News, the surveillance video shows Detective Chase McKeown and Officer Nicole McKeown springing into action, whipping out their guns and approaching the suspect before he fled the scene.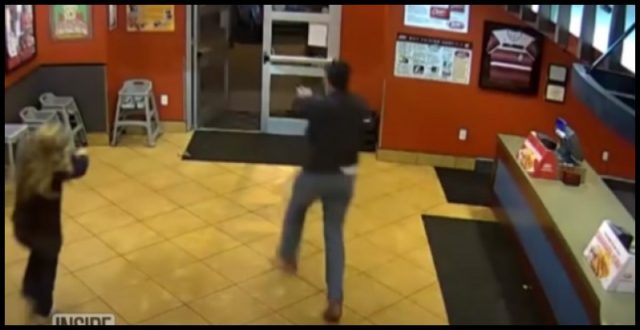 The McKeowns were off duty at the time, but the couple helped nearby Louisville police officers catch the suspect, according to Louisville police. It was also reported that Carter has since pleaded not guilty to robbery, receipt of stolen property, and being a felon in possession of a gun.
Det. Dan Mason of the Louisville Metro Police Department's Robbery Unit applauded both officers for their bravery, saying they acted "honorably and heroically," while adding "we are police officers 24 hours a day, seven days a week, on or off duty." A representative of Raising Cane's was also on hand to thank the officers. "We are extremely blessed that they chose to dine with us," the employee said, adding, "It's because of good people like Chase and Nicole who give us good hope for tomorrow…we'll never be able to thank them enough."
According to CBS News, the police department shared the surveillance video and praised the McKeowns on Facebook. Their story went viral with the hashtag "#DateNightGoals." For his part, Chase McKeown said the attention was a little overwhelming. "Maybe it's the term 'hero,'" he said. "We don't feel that way. We just feel like our training kicked in." Nicole said there's a pretty good chance they'll be enjoying Raising Cane's again. "Oh absolutely," she laughed. "I love Raising Cane's."
According to NPR, Detective McKeown told journalists at the Elizabethtown Police Department that they had gone out on Saturday, in part, because their church strongly recommends that married couples have a date night every week. "It's been an exciting six months," he declared. In a statement, the police department said it "couldn't be more proud" of the two officers, praising the "courageous and selfless actions they took to intervene."