Things did not end well for a gunman who burst into a Baltimore barbershop and opened fire. Little did he know, an off-duty cop was getting his haircut, but he quickly learned the hard way that the man he fired shots towards wasn't your average customer. Instead, he was armed and ready to protect and serve — and it was all caught on jawdropping video.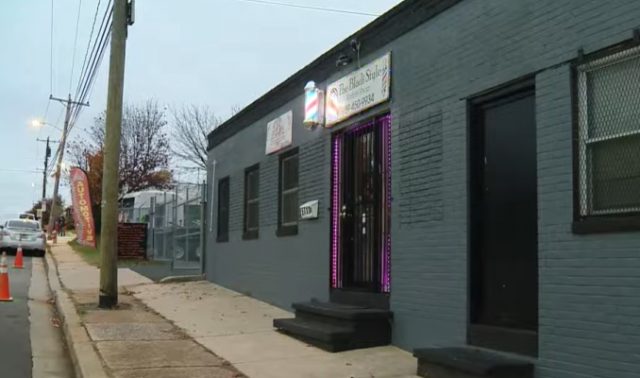 Carlos Ortega, a 38-year-old man accused of going on a shooting spree in the city of Baltimore, met his match when he entered a barbershop and began firing his weapon at employees. As a patron sat in the barber's chair, Ortega went so far as to shoot over the man's shoulder, striking the barber. He'd quickly find out the hard way, however, that the man getting his haircut wasn't your average customer.
Unbeknownst to Ortega, he had just shot over the shoulder of an off-duty, plain-clothed Baltimore police officer, who was armed. After the gunman fatally shot 33-year-old Rafael Jeffers, the barber at Bladi Style barbershop in East Baltimore, while the officer was getting his haircut that fateful Saturday afternoon, the courageous cop decided to put an end to Ortega's terror — and it was all caught on video.
https://twitter.com/KatieDaviscourt/status/1461491334691188740
As seen in the dramatic footage captured by a surveillance camera inside the barbershop, Carlos Ortega, who's seen in a white tank top, walked into the business and almost immediately opened fire, shooting an employee to death, The Blaze reported. As shots rang out, the man in the barber's chair remained eerily calm as Ortega burst in and shot the barber. However, that was all about to change.
After getting out of the chair and moving out of the gunman's way, the off-duty officer, who was an armed police sergeant in plain clothes, quickly turned the tables. As Ortega turned his back, the cop "with great bravery produced his firearm," according to Police Commissioner Michael Harrison. After pulling out his own weapon, the officer fatally shot Ortega, stopping him from inflicting further harm on those present.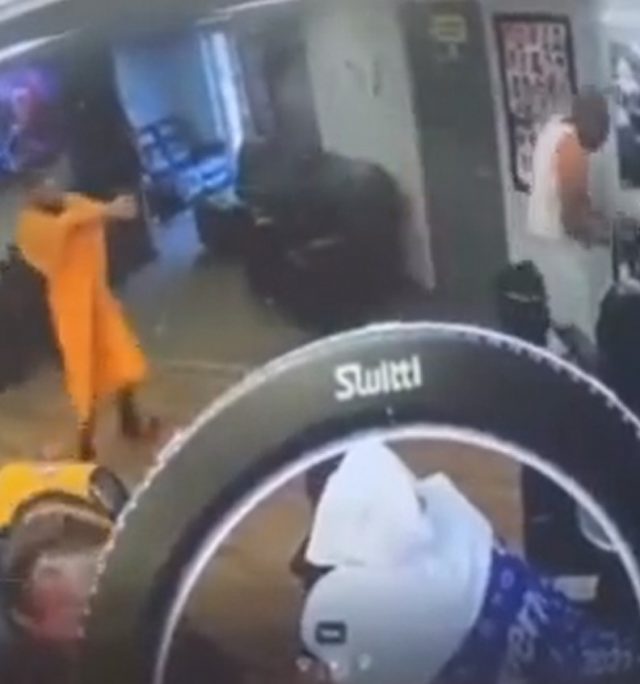 Sadly, it was too late for the Bladi Style barber as well as other victims who Ortega is accused of shooting earlier that same day during two other shootings in the city. The two earlier shootings left one 44-year-old man — also a barber — dead and another person critically injured.
Although Ortega is suspected of being the gunman in the two earlier shootings as well as the one captured on video inside Bladi Style, police were still working to determine any motives that might link the three shootings in the days following the deadly ordeal.
"We're processing three different scenes in three parts of the city," Police Commissioner Harrison explained. "While this perpetrator has expired from his injuries, we will still need answers to these questions," Harrison added, according to The Baltimore Sun. "We are working to determine the connectivity, which is a likely connectivity."
The officer, who was not injured during the exchange, has since been hailed a hero with Baltimore Mayor Brandon Scott lauding his heroic actions in a statement on the incident. "This is something the average person wouldn't do," Scott admitted. "This is something that our officers do each and every day in the City of Baltimore. We don't know what would have happened if he was not able to respond in that way, and how many more incidents could have happened tonight here in Baltimore City."
Indeed, we shudder to imagine what might have happened, had this officer not been present. This is yet another stark reminder that it usually takes a good guy with a gun to end the rampage of a crazed gunman, intent on doing harm. Thankfully, Carlos Ortega picked the wrong place and time to attempt to inflict carnage or this story might have had an even bloodier ending.