An Instagram influencer was arrested after fans were left disgusted by a video she posted which featured her puppy. The footage was so bad, it caused multiple viewers to call the cops on the online celebrity.
Brittany Johnson, a 20-year-old Instagram influencer from Louisiana who's known to her fans by her online persona "Lovely Peaches," racked up hundreds of thousands of followers on Instagram and TikTok as a notorious internet figure. Her so-called internet fame has often landed Johnson in hot water, such as the time she claimed that she hired someone to assault the TikTok star Charli D'Amelio.
A video posted by Johnson, featuring the internet celebrity and her dog, caused concern for her fans. In fact, the content was so disturbing that viewers called the cops, leading to the woman's arrest. Although the video is no longer on Instagram, Twitter users recorded and reshared it, and the influencer was arrested in Georgia after being accused of abusing her dog in the footage.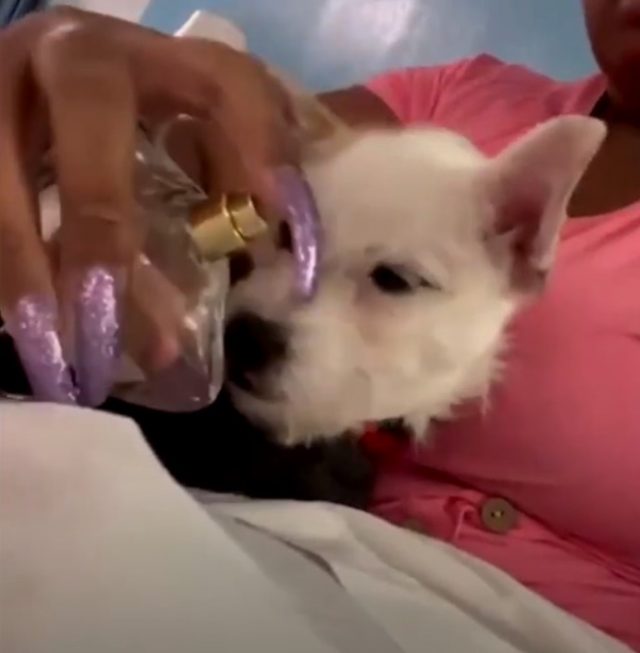 So, what did Johnson post that was so upsetting? According to Daily Mail, the influencer went live on Instagram with a video that allegedly featured the woman abusing her six-month-old Jack Russell Terrier, Max. Johnson supposedly "sprayed perfume" in Max's eyes and picked him up by the neck, but that's not all. She also boldly claimed that she had broken Max's legs to gain more followers.
According to Def Noodles, a YouTuber who frequently covers influencer drama and posted a blurred version of Johnson's video, the footage was "very upsetting to watch." Others definitely agreed. After watching Johnson's Instagram Live video, multiple viewers called 911 to alert the police to Johnson's actions and the alleged abuse of the puppy. Decide for yourself if the reaction was warranted, but be warned "Lovely Peaches" is upsetting to watch:
Johnson fanned the flames of her fans' concern by posting a photo of her and Max on Instagram, saying that the dog had died. She captioned the photo, "As I Posted On My Personal Max is no Longer With Us Rip Buddy #6Months on Earth … Keep Me In Prayers."
According to Insider, however, Johnson voluntarily relinquished the puppy to DeKalb's animal services, who took possession of the dog, before authorities tracked the cruel influencer down at a Motel 6 in DeKalb County, Georgia, where she was arrested.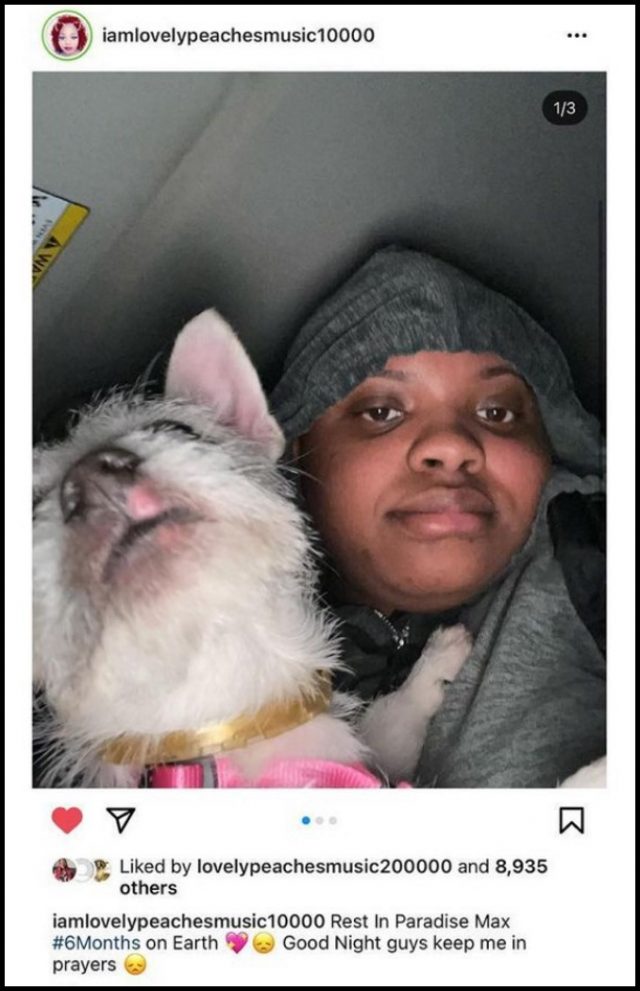 Brittany Johnson was charged with cruelty to animals, according to the Atlanta Journal-Constitution. At the time of her arrest, officers said the dog was alive and in animal services' custody and that tipsters had provided them with video evidence of Johnson kicking and choking the puppy.
Although Johnson posted a $2,5oo bond and was released from jail, she was banned from owning or caring for any animals during the course of an ongoing investigation. After seeing some other disgusting videos, purportedly showing Johnson's other questionable behavior with animals, that seems like a good call:
— lovely peaches videos (@peaches_videos) February 28, 2020
While the entire story is concerning, this is the part that should worry us all the most: "Police say Johnson admitted to making 'statements on her social media about harming or killing her dog to gain more followers.'" Is this really how low people will go to get attention and social media fame? Where do we draw the line? Mind you, these people are called "influencers" for a reason. They are influencing the public, and as Johnson demonstrated, criminal, immoral, unethical, vile, and violent behavior isn't off the table.
For 15 minutes of fame, these so-called "stars" will stoop to the lowest levels of depravity with complete disregard for what it is they are actually encouraging with their "influence." It's a sad state of affairs we are in. And, while many will lambast social media for giving this type of person a "platform," we have to remember that it's the attention she receives that makes her famous, not just having a place to post her vile content. If you follow such lunacy, it's time to quit.