A "luxury lingerie brand" decided to create a controversial ad campaign. One fashion model found it to be so offensive to women that she immediately cut ties with the brand upon seeing photos from the ad.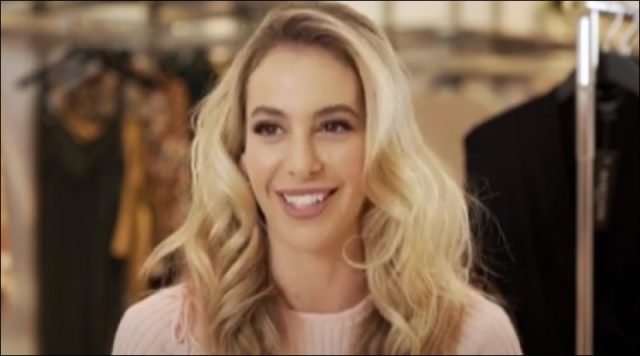 Bri Teresi, a popular Instagrammer, cut ties with Honey Birdetteb after strongly disagreeing with an ad from the lingerie company. With a large following on Instagram, Teresi is one of the most popular golf influencers and has been dubbed an "all-around star" of the social media platform.
The uproar all began when a nonbinary burlesque dancer named Jake Dupree was photographed wearing some of the most "skimpy" apparel from the popular lingerie company Honey Birdette. According to reports, when Honey Birdette posted the images of DuPree on the company's Instagram page, they were met with harsh criticism.
The lingerie company said that the post received about 10,000 comments before their managers decided to completely disable commenting due to the unfavorable response. Bri Teresi joined the throng of people who opposed the ad. She severed relations with the company that bills itself as "the luxury lingerie brand created for women, by women."
Teresi voiced her opinion in the post's comment section before it was disabled, making the company aware of her disapproval. "Sad to see you guys jumping on the woke bandwagon!" the social media star wrote. "Once again, another thing taken over by men. Know your audience!"
Teresi acknowledged that the Dupree incident led to her separation from the lingerie maker. "Yes, it's true. I will no longer be working with the brand," said the Instagram model, who has been described as an unapologetic Trump supporter. "The only way to stop this nonsense and propaganda is to not support businesses that do not support our values. It's that simple!" she said.
"As a model, I can tell you that an actual woman has been robbed of a place because of a deluded diversity handout," she declared. "That's pure misogyny. Now more than ever, we must support businesses that support our values. Go woke, go broke!"
Bri Teresi posted a video of herself shooting a table full of Bud Light cans and Tampax Tampons lined up in front of Honey Birdette lingerie in a display of protest against the three companies. "Go woke, go broke," Teresi shouted before unleashing her frustration at the products on a makeshift table on top of two barrels.
"I'm shooting at Honey Birdette lingerie, Tampax tampons & Budlight. These companies have all gone woke!" Teresi declared. "Tampax tampons used a biological male to promote their tampons. Honey Birdette used a biological male to model their lingerie. & y'all know about Bud Light."
Honey Birdette's spokespeople doubled down and made it very clear they didn't care about the controversy or backlash. "Honey Birdette fosters an inclusive and diverse environment, and we will continue to use our voice to empower and support the LGBTQ+ community, women, and anyone who wants to feel fabulous in our lingerie," they said.
The lingerie company explained its decision to censor negative comments. "While thoughtful and constructive discussions are important to push culture forward, hate speech and bullying will not be tolerated on our channels. Comments of this negative nature will be deleted. @jakedupree, you are so talented and have our full support," they said.
Honey Birdette told Fox News Digital it had never contacted Bri Teresi as a model or ever had a formal agreement with her. "While Honey Birdette occasionally sends lingerie as gifts to influencers and celebrities, we have never contracted this person as a model, brand partner, or anything involving a formal agreement. Since [its] inception, Honey Birdette has always supported the LGBTQ+ community and empowering women, and we disagree with anyone attacking our inclusive values," the company said in a statement.
Bri Teresi is not afraid to express her political views in public and has been vocal about brands that have been using non-biological women to advertise products sold primarily for women. Does this lingerie ad cross the line? Although we should always support equality and inclusion for all, there should be parameters for decency and common sense.