While driving his motorcycle down a Texas highway, a biker spotted a horrendous beating taking place on the roadside. Bothered by what he witnessed, the rough-and-tumble, tattooed cowboy sprung into action.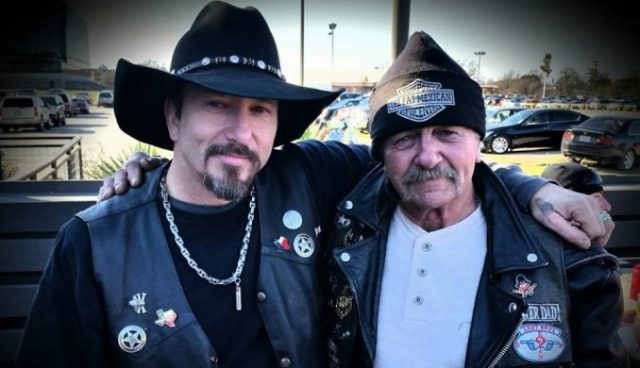 Brandon Turnbow might have the appearance of a rough-and-tumble biker — complete with tattoos, decked out in leather — but he showed the world he has a softer side. While riding his motorcycle along Highway 171 in Texas, the Burleson man spotted a horrible beating taking place on the roadside that would forever change his life, and the "tough guy" proved you can't judge a book by its cover.
The troubling scene caught Brandon's attention when he glanced in his rearview mirror. There, he saw a man severely beating a small brown and white dog, and he knew he couldn't keep going without doing something about it. So, the outraged biker turned his motorcycle around and took action, prepared to send the animal abusing scumbag a message, never imagining he'd soon be very grateful for the encounter.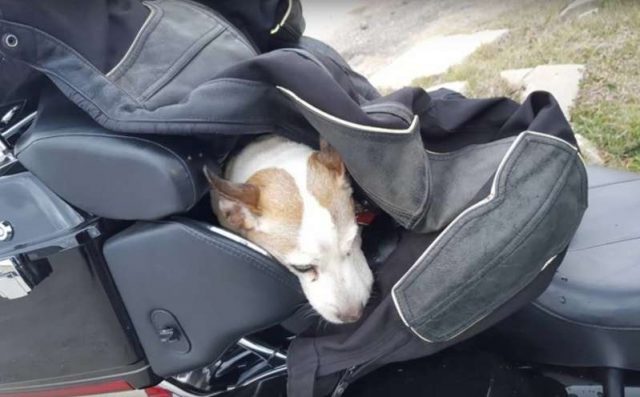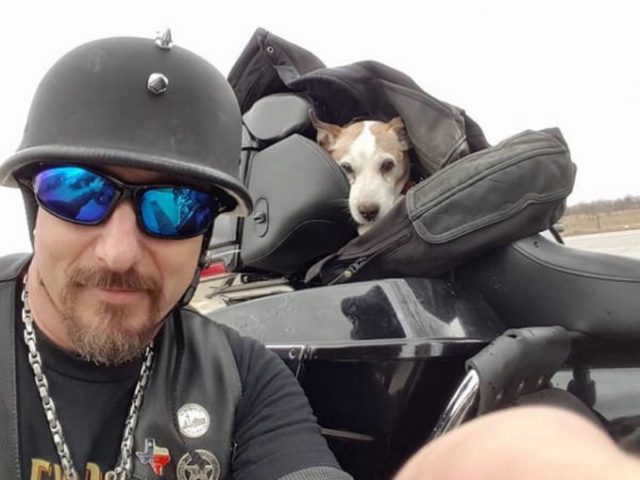 After beating the puppy, the degenerate threw the dog in the air, and the sweet defenseless animal landed on the side of the road. It was a troubling sight to witness, and it left Brandon so appalled, he decided to act. After the encounter, he took to Facebook to recall the day's events, revealing that what began as an upsetting ordeal resulted in the biker being grateful for a newly found friend for life.
"Was riding out to meet dad this morning and saw a vehicle pulled over on 171 with a worthless piece of crap beating an innocent little white dog," Brandon wrote in his Facebook post, according to Little Things. "I watched in my rearview and saw this guy throw the dog into the air curbside and drive off. I went after the guy just to give him a number one sign. And I now have a Copilot- Meet Mr. DAVIDSON."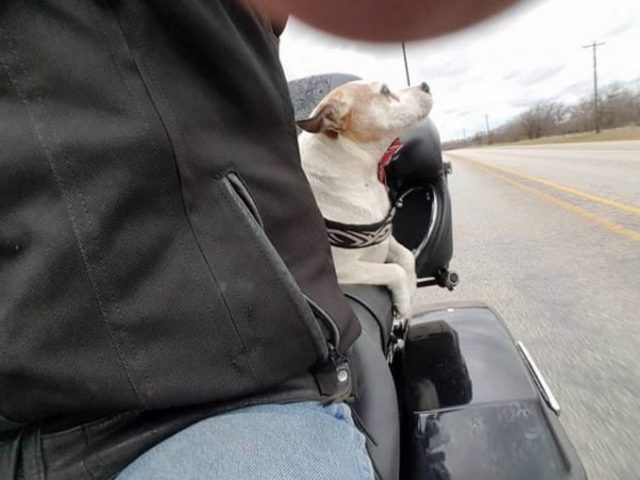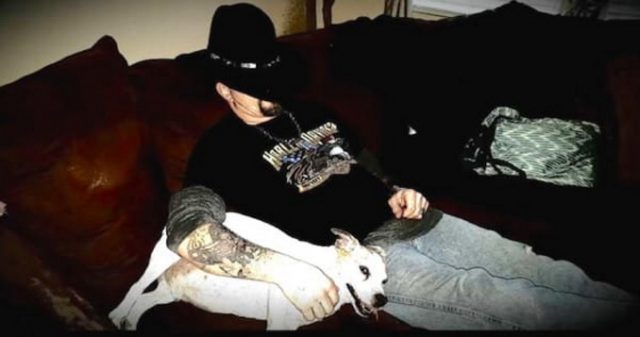 After apparently making sure to give the guy the finger, Brandon picked up the battered pooch, saving his life and giving him a second chance. Deciding to officially adopt the dog and give him the home he deserved, Brandon named him Mr. Davidson and made the canine his fearless co-pilot. The dog was finally safe, and as the pup's new owner, Brandon made Mr. Davidson a promise.
"You'll never have to worry again in your life, 'bout getting kicked down and thrown to the side," Brandon said. "We'll always have fun and go riding in the sun, Mr. Davidson," he added, and he has pictures to prove that he kept his word. Mr. Davidson is featured in many images, riding along with his new best friend, absolutely loving the feeling of the wind whipping in his face, as well as resting comfortably after a day on the open road.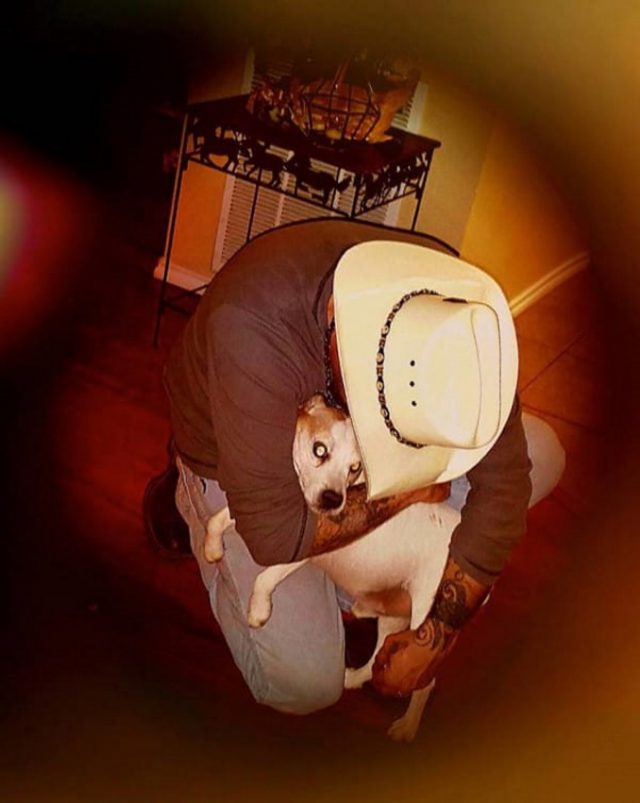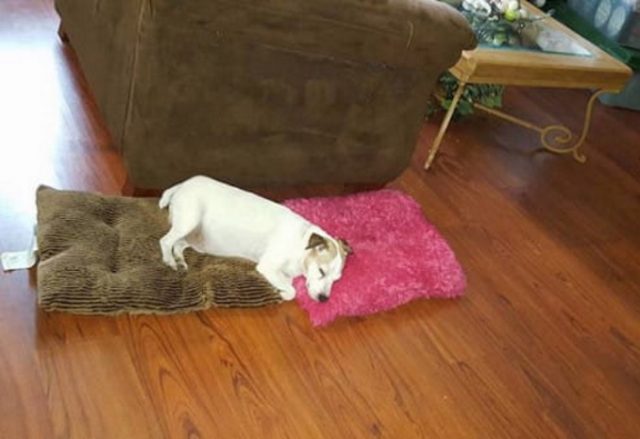 "Well looks like my Co pilot has found peace," Brandon wrote on Facebook, sharing an image of Mr. Davidson sleeping soundly. "His belly is full and he found the pillow," he added. A beloved and grateful new companion wasn't the only thing Brandon Turnbow gained from the situation. He was also inspired by Mr. Davidson to start a non-profit called "Baaang: Bikers Against Animal Abuse National Global."
In addition, Mr. Davidson also inspired Brandon, an aspiring artist who enjoys singing and writing songs when he's not riding his bike, to write a song about his new best friend. Brandon's original song with its music video, featuring other canine co-pilots, has gone viral time and again as it provides a reminder that there are still good people in the world.
Life is good for Brandon and Mr. Davidson, who also got another companion out of the ordeal. Brandon's new best friend also has a new four-legged buddy named Harley, a dog that Brandon had already had for some time. Both Harley and Mr. Davidson are fortunate to have a kind-hearted caretaker in their lives because, as Mr. Davidson knows all too well, not everyone is a good pet owner.
Mr. Davidson is also incredibly lucky that Brandon Turnbow didn't just keep his eyes on the road, only concerned about himself and his destination. All too often, people drive down the highway with tunnel vision, oblivious to their surroundings. Thankfully, Brandon was paying attention to what was happening around him, and his story should inspire us all to keep our eyes open. We never know when someone might need our help, and deciding to take action to combat evil might just land you a very special new friend.