Brad Pitt landed in hot water after the Hollywood actor helped sell homes to hurricane victims with his Make It Right Foundation. Those victims have since come forward, wanting everyone to know about Pitt's "rotten fraud."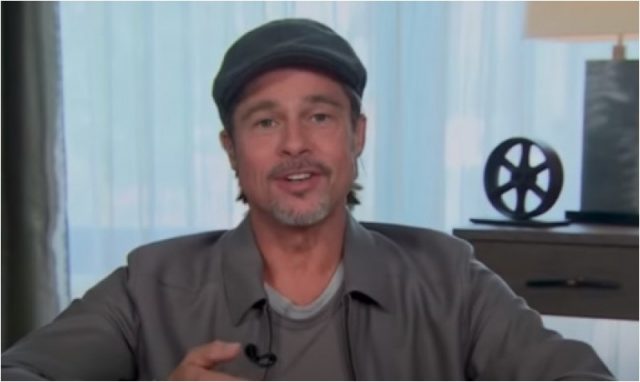 Although Hurricane Katrina happened in August 2005, it's still talked about often today since it was one of the biggest natural disasters of recent decades. Katrina affected mostly African-Americans who lived in New Orleans' Ninth Ward, which is known as a poverty-stricken area. So, when big-time Hollywood star Brad Pitt showed up and promised he was there to "help," the Ninth Ward survivors believed him.
Those survivors who bought "affordable" homes built by Pitt's Make It Right Foundation are hurt and angry. In a heartbreaking interview, an attorney for Hurricane Katrina victims who bought defective homes touted by Pitt said, "They believed in [him]. They believed in the dream he sold them. Unfortunately, what they got is a bunch of broken promises… living in rotten houses that should be torn down to the ground and started over."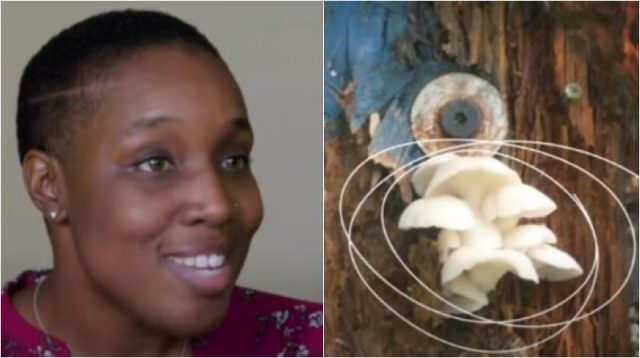 "In 2006, Pitt and his Make It Right Foundation set out to build affordable homes for residents of New Orleans's Lower Ninth Ward who lost everything the previous year in Hurricane Katrina," Page Six reported. "But the experimental, environmentally friendly homes turned out to be defective, leaving the residents with mold-infested homes."
The hurricane victims who bought the defective homes still had hope Brad Pitt would "make it right." They gave him a chance via a lawsuit to address the situation. The lawsuit moved to federal court. Make It Right was accused of fraud, breach of contract, and unfair trade practices. Sadly, Pitt gave them some lip service and let them down again.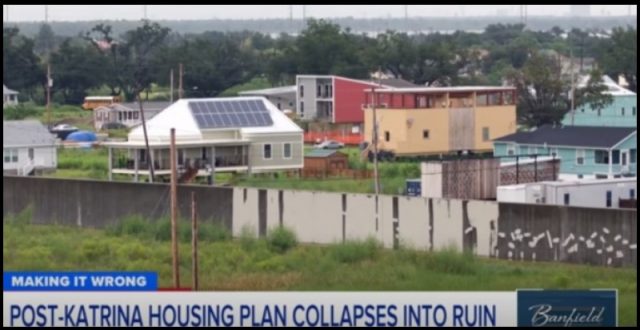 Constance Fowler bought one of the homes, and she has a lot to share. "Make It Right say this is the largest green community in the US where they've designed homes with solar panels, environmentally friendly insulation, construction material that is clean and healthy, but are they really?" Fowler said.
"Look how many are boarded up now or abandoned?" Fowler declared. "There wasn't as many boarded-up back then in 2014 when I bought my Make It Right home for $150,000, it was constant building work by the organization, they had a commitment and goal to build over 150 homes. The brochure they gave us made it look like you were joining a family, it was very attractive and there was a ten-year guarantee," she added. "The place next door, a woman was living there and she was getting sick from the mold, so they said move out, and we'll renovate your house. But they didn't."
Reporter Ashleigh Banfield said, "Some houses didn't have things like waterproof paint or rain gutters. Some had flat roofs or were so tightly insulated that once moisture got in, it wasn't getting out." The NewsNation reporter said Pitt even made the victims sign non-disclosure agreements. The result: termites and toxic mold that even reportedly killed one resident. "Unfortunately, there's nowhere [for victims] to turn" since "Brad Pitt and the foundation have closed their offices," according to Attorney Ron Austin.
A Make It Right leaflet proclaims: "Safety: Make It Right homes are designed with safety in mind and are built to weather the next storm or floor. All homes are elevated to at least 5ft, built to withstand winds of at least 130mph." Taking the reality into consideration, Pitt had the audacity to proclaim his homes a success, even though the rotting wood, the black mold, and poor construction issues were reported.
"I get this well of pride when I see this little oasis of color and the solar panels," Pitt said. "I drive into the neighborhood and I see people on their porch, and I ask them how is their house treating them? And they say, 'Good.' And, I say, 'what's your utility bill?' And they'll throw something out like, '24 bucks' or something, and I feel fantastic."
A source close to Brad Pitt told Ashleigh Banfield that his "attorneys have made it clear that he has no legal liability for the decisions made by others." The Oscar-winner, who is reported to be one of the richest actors in Hollywood worth roughly $300 million, appears to have "ghosted" the Katrina victims. Like many in the Hollywood crowd, Pitt says a lot about helping out the less fortunate, but the millionaire star's actions in the Ninth Ward speak louder than any words ever could.