During a youth baseball game, a massive dust devil suddenly formed around a 7-year-old boy, preventing him from breathing. Just when the child felt he was being lifted off the ground, a hero appeared — and it was all caught on video.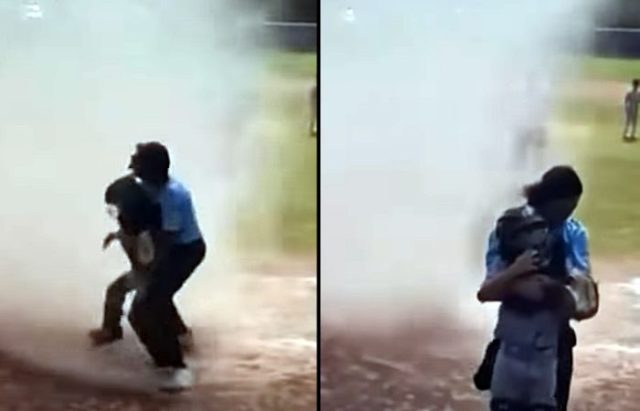 During game season, Sunday afternoons are set aside for competition for little Florida athletes like 7-year-old Bauer Zoya. As such, the stands were filled with proud parents and fans as the young baseball players took their places on the field. The sunny weather and consistent breeze provided the best atmosphere for the game. Unfortunately, it also created the perfect recipe for a disaster.
At the Fort Caroline Athletic Association park, several 8-and-under teams competed in a tournament. When the FCAA Indians and Ponte Vedra Sharks fans took the field, spectators were hoping for an exciting match, The Blaze reported. What they weren't expecting was a freak dust devil.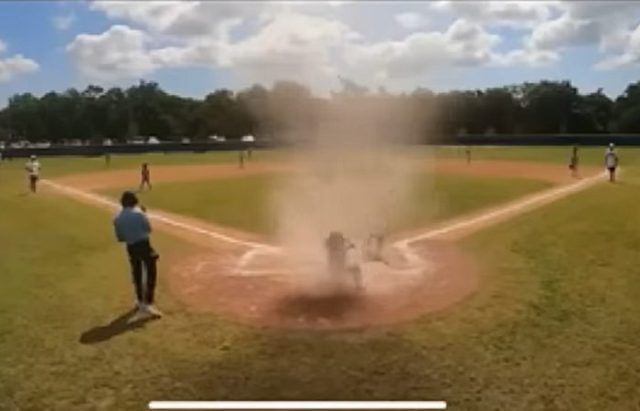 When the fourth inning was underway with the Indians at bat, a young batter stepped up to the plate as Bauer Zoya took his place as the catcher. As the pitcher hurled the ball, the batter swung for the fence. Just then, his play was disrupted by a force of nature. Within an instant, a strong dust devil appeared, whipping up a whirlwind and trapping the two young boys at the plate.
The batter managed to flee. However, the tiny catcher was caught directly in the middle of it. Trapped and unable to breathe or see, 7-year-old Bauer Zoya feared for his life.
"I couldn't breathe that much," Bauer told WSB-TV. "So I held my breath, and I feel like I couldn't touch the ground. So I kind of lifted up a little bit. I was scared, and I got afraid [wondering] if someone would pull me out."
While they may seem fairly harmless, even small dust devils have winds that can reach 30 to 40 mph and last for several minutes, which could easily injure a small child. Thankfully, just when Bauer feared the worst, a hero appeared. In one swift motion, Aidan Wiles, a 17-year-old junior in high school, plowed through the swirling wall of dust and snatched up Bauer, rushing him to safety.
"I just saw him freaked out, just like couldn't find his way out, and I knew his little body couldn't handle it, so I just rushed in and got him," Wiles said. "I was worried about his safety because when I got taught, the players' safety is always the first thing."
According to Bauer, Wiles stepped in just in time. The child needed air, but the needle-like spray of dust in his face prevented him from inhaling or fleeing.
"At first, I was scared, but I just told myself to think of happy thoughts. Then I thought the twister got me, but it was Aidan, and I could breathe again," Bauer said.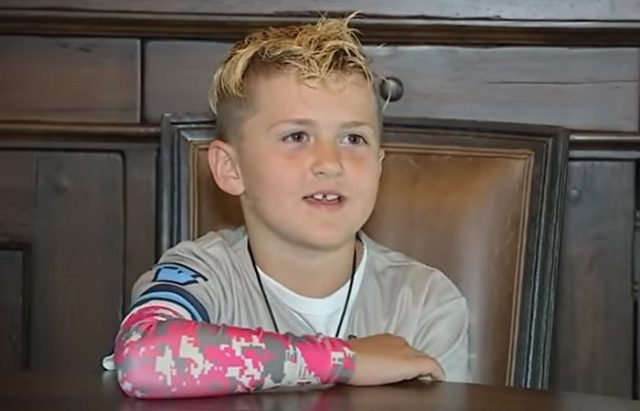 After Wiles had carried the boy out of the twister, volunteers rushed to his aid, pouring water on his face and eyes to clear away the debris.
"You saved his life!" one spectator shouted.
Bauer's father, Brian Zoya, expressed his gratitude to Wiles. He's incredibly thankful the young umpire was there to step up for his son.
"A kid that just had the presence in mind to just do that, it's just special to see," Brian Zoya said. "He had great parents raising him. Next time I see him, I just want to say thank you."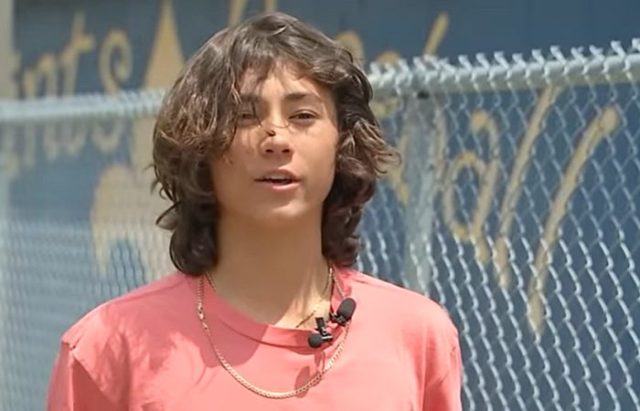 Unfortunately, the Sharks ended up losing the game. However, Bauer says that the incident has actually given him courage. He feels that his battle with the dust devil has helped him to play bolder than ever.
Even though it ended as soon as it began, Wiles is undoubtedly a hero. He ran straight into the swirling dust devil without a second thought. Despite the number on the scoreboard, Bauer and his rescuer are winners of a different kind.