Ashley Chiarizzio showed up to work to serve tables at a Red Robin in Tennessee, just like every other workday before it. However, during the course of her shift, she was sent to the back by her manager, after a customer complained about her appearance. They didn't want the waitress anywhere near their table.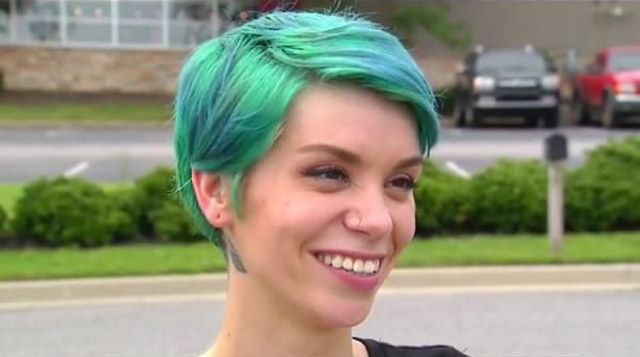 Dressed and ready for a productive and hopefully profitable day on her job, which depends on the gratuity of other people, Ashley Chiarizzio paid special attention to her appearance with a fairly new alteration to her look. After she greeted the customers at their table and asked about their drink order, the waitress was turned away and replaced with a more "respectable" person.
"I've never had someone look at me and decide I wasn't good enough to serve them," Ashley said after she walked to the kitchen to get their drinks and found out she wouldn't be returning to that table. A woman at the table called the manager over and demanded someone else, saying she didn't like what Ashley "represented" and how she presented herself, WABC reported.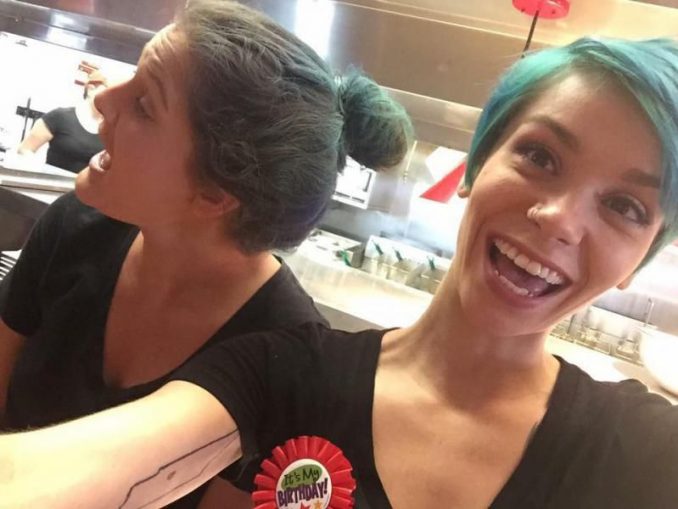 Ashley has a fun and friendly personality and likes to express herself in creative ways with her appearance. She dyed her brown hair a beautiful shade of blue, which complements the tattoo artwork she has on her arms and other visible areas. While not a single inch of her ink shows or says anything offensive, the female customer at the table took huge issue with the server's style and didn't think that Ashley was worthy of being her waitress.
"My boss told me, 'She doesn't like the way you look,'" Ashley explained, WKRN reports. "He said, 'She doesn't like the way you represent — the tattoos, the piercings, hair — she wants a new server.'"
This was a first for Ashley who has waited tables for a while with tattoos and ever-changing hair. The shocking snap judgment of her as a person broke her heart and reduced her to tears in the kitchen. Her manager disagreed with the customer's assessment, as did her co-workers, who decided to do something incredible about it.
Ashley went about the remainder of her shift feeling rightfully offended but also sad for the ignorance of this customer. She explained in a Facebook post about the incident that on her way home she was still thinking about it and decided what this judgmental customer needed.
"To the lady who refused to let me serve her tonight because you didn't agree with 'what I represented' and 'how I presented myself', I just wanted to let you know, while I cried on my drive home, I prayed for you," Ashley wrote in her post. "I pray God overlooks your judgment of me, I pray you learn acceptance and tolerance for things you didn't grow up with, and I pray that you learn someone's appearance does not affect their ability to work (especially to serve burgers and fries)," she concluded in her post.
In an interview, she said, "My company has been 100-percent supportive and so have thousands and thousands of people who showed support to me over this. On that drive home I called my boyfriend and told him about the ordeal and said I wanted people to pray for people who are judgmental. That's why I posted, I'd hoped my story would be inspirational."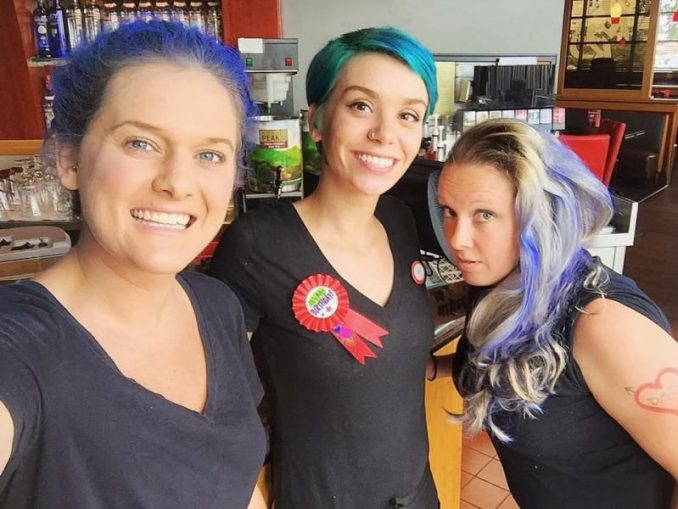 When Ashley Chiarizzio showed up to her next shift, she walked into a restaurant filled servers who had all dyed their hair blue in honor of her and even applied several temporary tattoos to their bodies as an added show of approval of her appearance. The response from both her co-workers and the customers, who learned why they did it and thought it was awesome, was overwhelming to Ashley, who couldn't have been more appreciative of the gesture.
"They basically were saying 'If Ashley's not good enough to serve, then we aren't either,'" Ashley said. "I was overwhelmed with happiness and in a sea of blue! Some said they thought it was a bogus story, or that I was a freak show. But the support outweighs the hate by far," she added. It's sad that we live in a society where people feel that they are somehow better than others for the way they look. Thankfully, this caustic customer was the minority, since truly respectful people appropriately put her in her place.