A Detroit mom frantically called 911 after her 8-month-old child stopped breathing. An EMT arrived but parked just short of the residence, purposely not coming to the baby's rescue. The first responder expressed a specific reason for refusing to tend to the emergency, believing she was "justified." As a result, the baby died — all the while, the medic was sitting just blocks away.
Ann Marie Thomas, a veteran EMT with the Detroit Fire Department, was dispatched to a home after a child's mother made a desperate call to 911 when the infant stopped breathing. As the mom waited for first responders to show, she began performing CPR on her baby. The child later died at the hospital after an ambulance arrived at the home to do the job Thomas told dispatchers she absolutely wouldn't do.
To the shock and horror of the community, Thomas, who was close by following a previous call, refused to respond to the scene, according to Click On Detroit. When the call came in, EMT Thomas' quick response SUV, which was outfitted to be just like an ambulance to help medics get to people faster, was only 0.9 miles away. It was only a two-minute drive at normal speeds, but the first responder took a staggering six minutes to reach the vicinity of the home when every second was critical. But, it gets worse.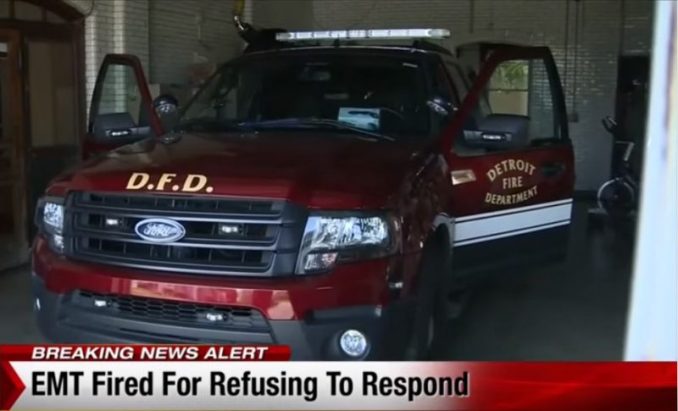 Thomas didn't enter the home to give the infant the life-saving treatment she needed. Instead, she parked her unit on a street corner away from the incident, EMS1 reported. Thomas told dispatchers unit "33 is in position on Pembroke around the corner from the scene." She then told her boss, "I'm not about to be on no scene 10 minutes doing CPR, you know how these families get." Thomas wasn't going to do her job because she didn't want to perform CPR on a child for a prolonged amount of time while dealing with an emotional family and an infant in distress.
Of course, her supervisor did not accept Thomas' refusal or her reasoning. Thomas, the lead paramedic on the call, was ordered to make patient contact and get to the house. But, as the infant lay dying, the helpless supervisor was forced to go back and forth with Thomas over the radio, practically begging the woman to do her job as she continued to refuse.
Dispatch updated Thomas, but the urgency of the situation didn't seem to matter. "[T]he child is not breathing. The baby was hooked up to an oxygen machine because it was premature," a message from dispatch said. "Be advised CPR is being performed on your scene … CPR is being performed by the baby's mother." Thomas didn't budge. After 19 minutes, an ambulance arrived and transported the child to the hospital, but it was too late.
The infant, later identified as I'Nayah Wright-Trussell, died the following morning. The Wayne County Medical Examiner ruled I'Nayah Wright-Trussel's death a homicide. The cause of death was determined to be suffocation after multiple rib fractures were discovered in various stages of healing, as well as bruises on the child's bowels, liver, spleen, and both lungs, according to a follow-up article by Click On Detroit. It would be years, however, before any kind of justice was served.
Although she claimed to be innocent, the infant's mother, 26-year-old Janee Wright-Trussell, was charged with first-degree murder, felony murder, and three counts of first-degree child abuse in the child's death. As part of a plea deal, she pleaded guilty to voluntary manslaughter and first-degree child abuse and was sentenced to 8 to 15 years in prison. But, many still felt Ann Marie Thomas played a part in the child's death and should also be held responsible.
Although Thomas was immediately removed from duty, simply losing her job didn't seem like enough after what she had done. Finally, those who wanted to see her face charges got their wish, but her punishment was paltry, to say the least. Thomas was found guilty on willful neglect of duty charges for failing to provide aid, a misdemeanor crime, according to Detroit News. She faced up to one year in prison but was only given a measly 3 months in jail. And, it doesn't seem as though she learned anything.
"When this all began, I thought this would be my opportunity for the truth to come out, for my voice to be heard," Thomas said in court. "I know I did nothing wrong. I did my job as I was trained," she unremorsefully added, claiming what's heard in the tape is "not what happened at all." According to Thomas, she never got updated information, but the audio proves 4 orders were repeated over the course of 13 minutes, making it hard to believe she heard none of them.
"How these families get" is no excuse to refuse to do your job, especially when your job is saving lives. In fact, it sounds like discrimination. This little girl was living in an unimaginable hell, and this woman could have rescued her. Instead, she let her die because she didn't want to deal with any "difficulties." If Ann Marie Thomas ever finds herself in desperate need of help, she should be afforded the same courtesy she gave little I'Nayah Wright-Trussel. Then, maybe she would understand what she did wrong. Cowards shouldn't pursue careers that mean life or death for people who depend on them to do their job.