After seeing his own chief of police refuse to salute the American flag during the Pledge of Allegiance, an officer decided to take matters into his own hands after accusing her of holding her religion above her official duties.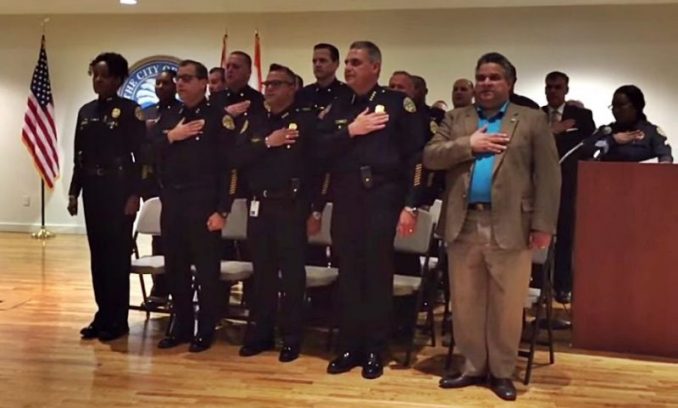 While each officer in the room At Miami Police College stood and saluted the flag, one of their own leaders declined to participate. Assistant Chief of Police and 32-year-veteran officer Anita Najiy stood silently, refusing to recite the pledge and place her hand over her heart in reverence of our country's symbol. Unfortunately for her, someone took notice.
When it comes to our men and women in blue, we hope that they feel an inherent duty to their country above all others. After all, it is the citizens of this nation who they are sworn to protect and serve. As such, when Najiy was spotted disrespecting the American flag, one of her fellow officers refused to let it go.
After seeing his own commander's apparent contempt for America, Fraternal Order of Police president Javier Ortiz refused to let her actions go. In a letter to her superior, Ortiz questioned Najiy's ability to serve her country if she won't even pledge her allegiance to it, according to the Miami Herald.
"If you're not pledging allegiance to the United States, my question is what country are you pledging allegiance to?" Ortiz says. "Anyone who isn't offended by that is not American, because when you become a U.S. citizen, you pledge allegiance to the US."
Ortiz cited a section of the police department's code of conduct, which allows for disciplinary actions for officers who fail to give the flag the proper respect during a ceremony. Ortiz ultimately suggested that Anita Najiy is removed from her position as commander of the department's Honor Guard.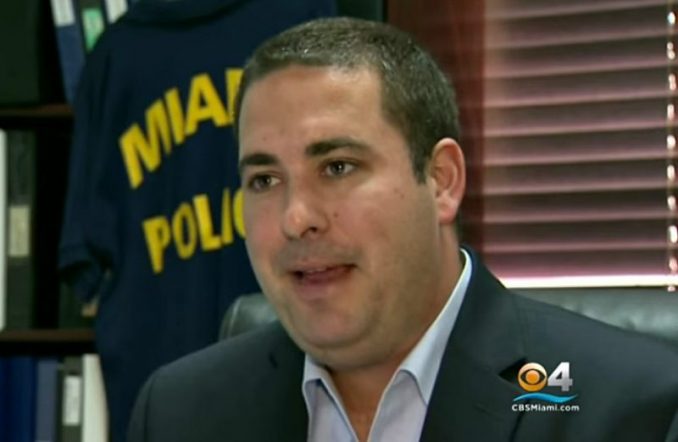 Javier Ortiz wrote Chief Rodolfo Llanes, accusing Anita Najiy of holding her religion above her official duties. Since Najiy is a Muslim, Ortiz concluded that the incident was a clear indicator that she is unable to put aside her religious conviction in order to perform her job requirements.
"I had false hopes that the MPD [Miami Police Department] would address the issue at hand. Assistant Chief Najiy practices in the Muslim faith. The MPD apparently is afraid to address this," Ortiz said. "In the United States, you have the right to practice any religion and say whatever you want off-duty. When you're in your police uniform, you are to be neutral."
Miami Police Maj. Delrish Moss refuted Ortiz's claim, stating that Najiy was following U.S. Military code, which supersedes the city's Honor Guard code. However, Ortiz dismissed this justification, arguing that the officers "aren't in the military" and that she should have displayed the proper etiquette that "must be exercised when wearing a law enforcement uniform."
"Religious and political views have no business being reflected when wearing a police uniform," Ortiz said. "There are plenty of police officers in our department that practice the Muslim faith and pledge allegiance to our country and have a problem with her defiance towards the United States."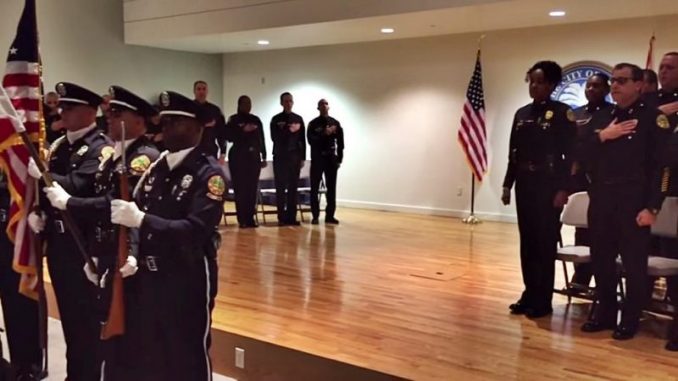 Javier Ortiz has since been called a racist and bigot for raising his concerns. He has also been under fire for utilizing social media to rally backlash against those with whom he disagrees.
"We are appalled by the hateful comments that we have been forced to witness over the past several days," Miami Community Police Benevolent Association President Ella Moore wrote. "Manufacturing issues to divide and call attention away from his own misdeeds seem to be a pattern of this FOP president, who does not appear to be up to the task of showing the true leadership benefiting his current position."
The ordeal has caused heated debate over Anita Najiy's actions. While some agree that police officers should salute the flag, others insist that it should be an officer's right to refuse, regardless of their motivation for doing so.