Despite being a natural beauty, a young woman became obsessed with transforming her body through extreme tattooing and plastic surgery. In the end, she spent $120,000 to transform herself into what she labeled the "dragon girl."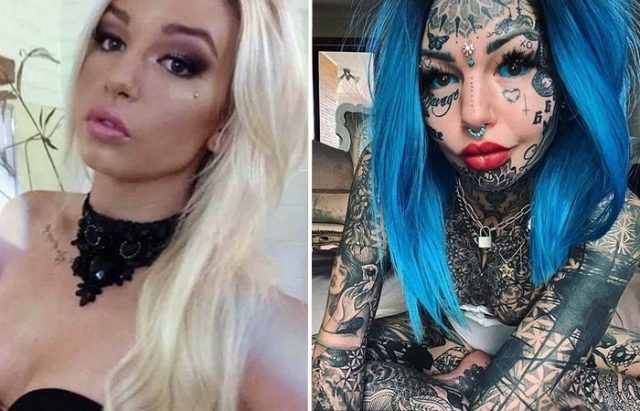 Aussie native Amber Luke might have seemed like she had everything a girl could want growing up. As a tall, slender, blonde beauty queen, she exuded every characteristic of femininity. However, she hid a secret behind her seemingly perfect facade.
For millennia, women have engaged in strange and sometimes life-threatening beauty crazes in a desperate effort to remain young and attractive. Of course, the definition of beauty has continued to evolve, leaving millions chasing after a nearly unattainable standard. However, Amber has bucked the typical idea of allure for an almost mythical appearance.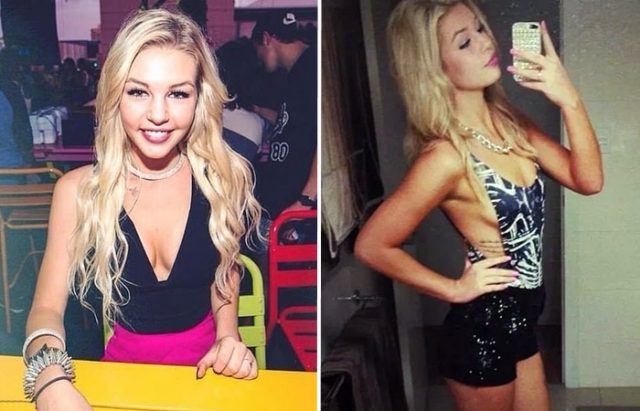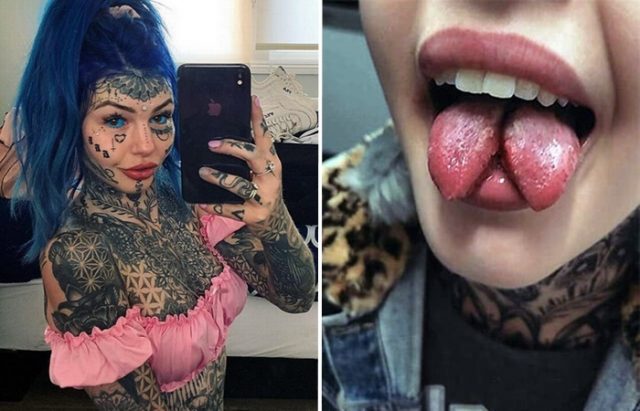 For years, Amber says she suffered from depression and suicidal ideation. She simply didn't feel right in her own skin. As such, the Brisbane beauty set out to conform her looks to what she truly felt on the inside.
Determined to express her identity, Amber began accumulating tattoos, piercings, and surgeries to initiate her head-to-toe transformation. In all, she has spent $120,000 on body modifications, including $50,000 on around 600 tattoos and $70,000 on surgical procedures, the Daily Mail reports.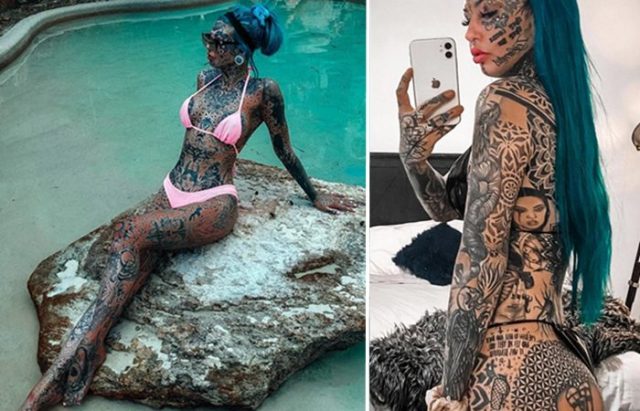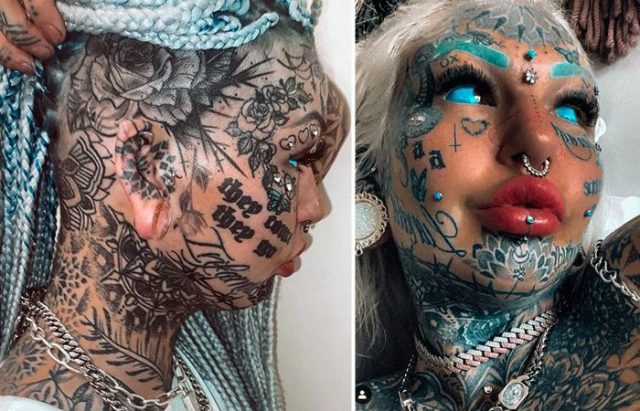 Along with fresh ink, Amber has endured some fairly harsh physical procedures. So far, she has had cheek and lip fillers, pointed ear implants, a breast augmentation, a Brazilian butt lift, and her tongue bifurcated. She now refers to her identity as the "blue-eyed, white dragon girl."
"This was me at 18 years old," she wrote. "I was so catatonically depressed, suicidal and was a walking dead girl. I was numb. I hated myself majority of the time – that hatred ran deep. It tormented me," she explained. "Now, I've totally transformed myself into someone I'm proud of being. I'm a strong woman who knows exactly what she wants and who she is."
Amber claims that her transformation saved her from a life of depression and a possible suicide. However, her aspiration to become an erotic mythical being almost resulted in her losing her eyesight. The 40-minute procedure, which involved injecting blue ink directly into her eyeballs, left her completely blind for 3 weeks before she regained her sight.
"I can't even begin to describe to you what the feeling was like, the best thing I can give you is once the eyeball was penetrated with the ink, it felt like [the tattoo artist] grabbed 10 shards of glass and rubbed it in my eye," Amber said. "That happened four times per eye, that was pretty brutal. Unfortunately, my artist went too deep into my eyeball. If your eyeball procedure's done correctly, you're not supposed to go blind at all. I was blind for three weeks. That was pretty brutal."
Amber promises that she doesn't have any plans to further modify her body. She even told fans that she won't put another tattoo on her face and will never again ink her eyeballs. Of course, many believe it's only a matter of time before she takes her transformation to the next level.
Amber claims to finally be happy and constantly laughs off those who warn that she will regret her actions when she's older. She reiterated that she was miserable before and didn't like who she saw in the mirror, despite what people thought. She maintains that she isn't harming anyone and that she is ultimately satisfied with the way she looks. Only time will tell whether Amber keeps up with her new look or makes yet another drastic change.