After sending her teen off to class in an outfit she had bought for her, an Alabama mother was left confused when she was called and asked to bring a change of clothes to school for her daughter. According to the administration, the girl's attire was "inappropriate," but her mom didn't see a problem. Do you?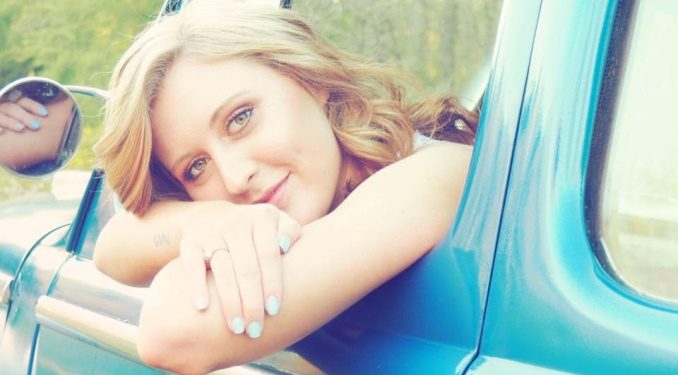 Amanda Barbier never had a problem with her daughter, Katie, when it came to the teen's performance at school. Katie was a good student, and she wasn't one to get in trouble, but an outfit seemingly changed all that. After sending Katie off to class at JB Pennington High School in Blountsville, Alabama, in what Amanda thought was appropriate attire for school, the mom soon received a call telling her otherwise.
"I just had to go to my daughter's high school," Amanda explained in a Facebook post. "They said her clothes [were] not school appropriate," the confused mother added, along with multiple photos of the allegedly "inappropriate" outfit Katie had worn to school that day, which got her sent to the office. As can be seen, Katie had donned a pair of leggings with a long, flowing top and an oversized sweater.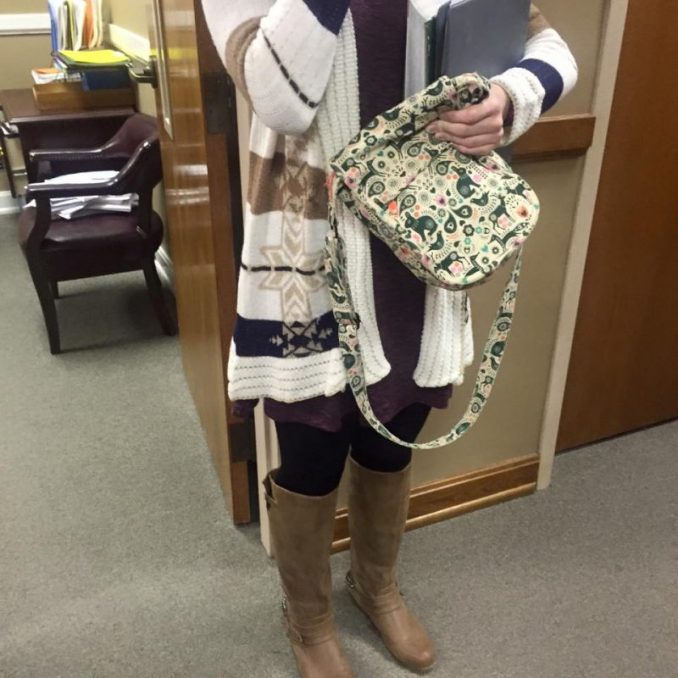 Katie wasn't the only one who had gotten in trouble over what she was wearing. According to comments on Amanda's post, she was sent to the school counselor to have her outfit assessed along with another girl named Stephanie, who was allegedly wearing jeans that a teacher felt were too tight. Stephanie was made to change her pants, but Katie was sent to the principal's office after the counselor didn't find anything wrong with what she was wearing.
"The counselor did not see anything wrong with the way she was dressed. So, she sent her to the assistant principal," Amanda explained. The principal felt much differently about Katie's outfit than the counselor did, though, saying the shirt she had on was too short to be worn with leggings. That's when Amanda was called. "They put her in a room and took her schoolwork to her and wouldn't let her leave [until] I brought her clothes!" Amanda exclaimed. Rather than arriving with a new outfit for Katie, however, Amanda showed up wanting an explanation about the dress code violation.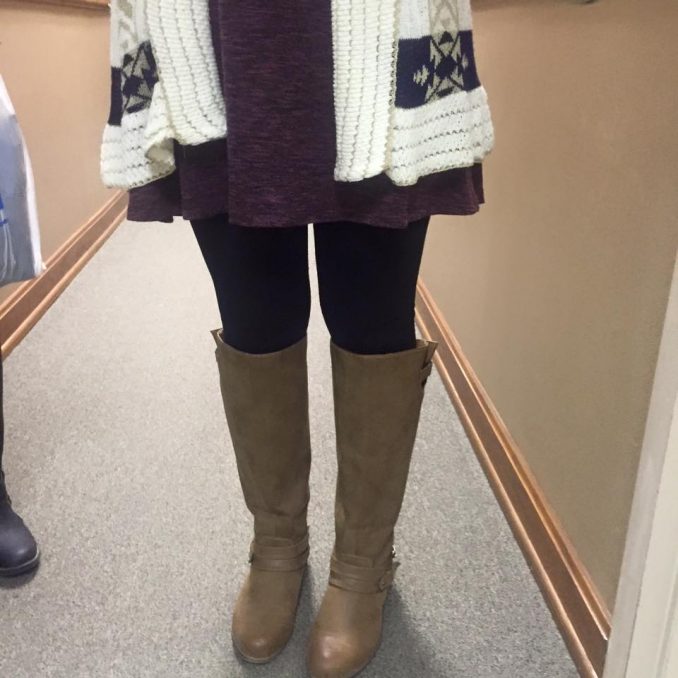 In disbelief that Katie's attire broke the rules, Amanda challenged the administration. According to the mother, the dress code states that leggings can be worn to school as long as the top they are worn with is no more than "four inches above the knee," and Amanda was adamant that Katie's outfit met the criteria. "We measured it before we bought it," Amanda explained. "This is a kid that never misses school and makes great grades!" she added, explaining that Katie's not a trouble maker, but rather a good student.
Knowing that she had already checked Katie's top to ensure it met the school's standards, Amanda asked both the principal and assistant principal to measure Katie's outfit while the mother was standing in the room. "They both REFUSED!" the frustrated mom said. "No one NEVER measured her to see if it was too short. Even though we did! So basically he lied to me!"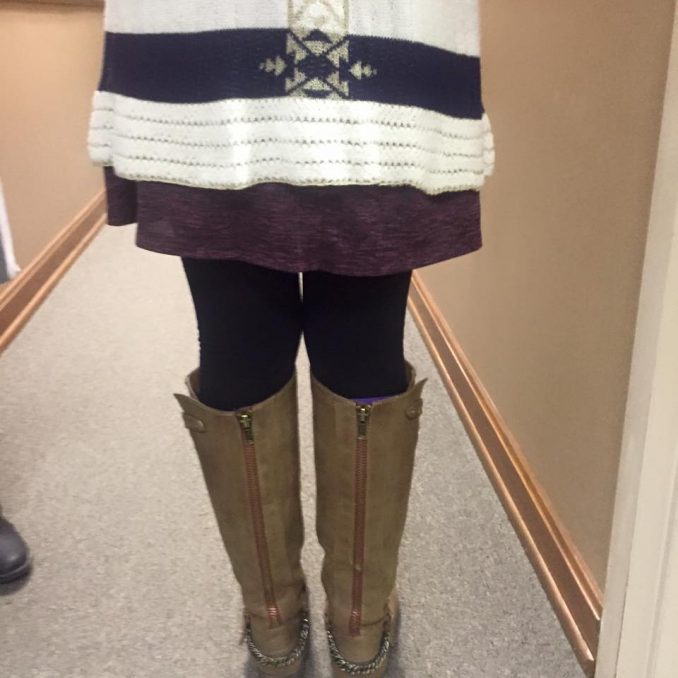 Their reasoning only infuriated Amanda further. "They said it's not school appropriate when she is WALKING! I've never heard that before," she said. Making Amanda even angrier, the administration refused to apologize to Katie after making her cry. "I also asked the assistant principal to apologize to my daughter for upsetting her," she wrote, "but he refused again! He said he wasn't apologizing for doing his job!"
But, was he just doing his job? Amanda Barbier doesn't think so. Instead, she feels as though the staff was wrong and didn't want to admit it, hence the reason they refused to measure Katie's top. And, others seemed to agree with her sentiments, saying there was "absolutely nothing" wrong with what Katie was wearing. "What's not school appropriate about it? It looks cute to me! If they want to be so picky, they need to go to uniforms! Don't they have more important things they need to be doing?" one such commenter wrote.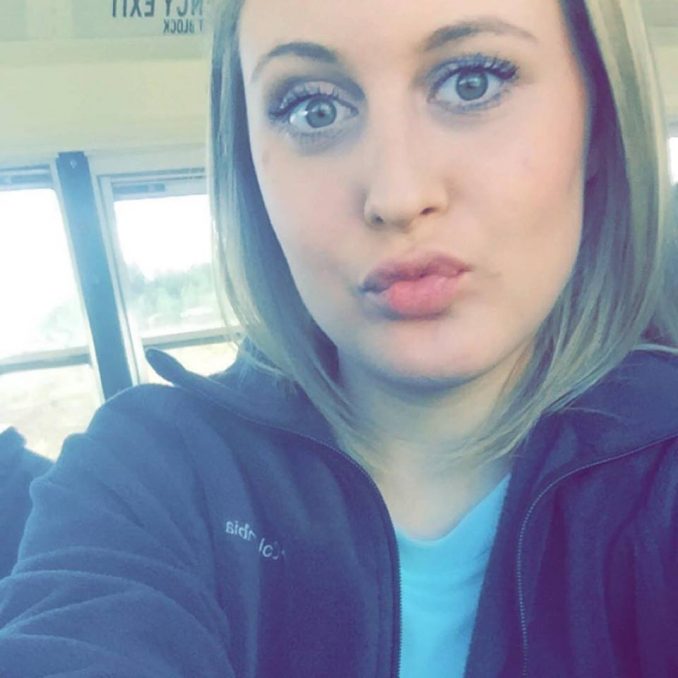 The purpose of a school dress code is to keep children from wearing clothing that's too revealing or distracting to school. This outfit doesn't look like it would divert attention from classwork, but the administration's reaction did. They pulled the girl from class in front of her peers, then refused to let her return, making her cry. For what? She was adequately covered. Arguably, her outfit was likely more modest than many others that were probably worn to school that day. By all means, if a student fails to follow the rules, reprimand them. But, first, ensure the rules were actually broken.
This entire confrontation could have been avoided if one adult at the school utilized a ruler. If the dress code states "four inches," measure it and end the argument. The refusal to do so does make one question the administration's motive. Those in a position of authority must be able to admit their mistakes or back up their decisions with factual evidence. The principal and assistant principal failed to do either. The end result was a teenage girl, who's appropriately covered and a good student, being humiliated for the sake of an adult's pride. That's more bothersome than what she was wearing.