In a horrific attack, a hatchet-wielding suspect repeatedly slashed a man at a California Planet Fitness. However, the tables were turned when the victim decided he had enough and seized an opportunity. With the help of gym members, the suspect was quickly made to regret what he had done.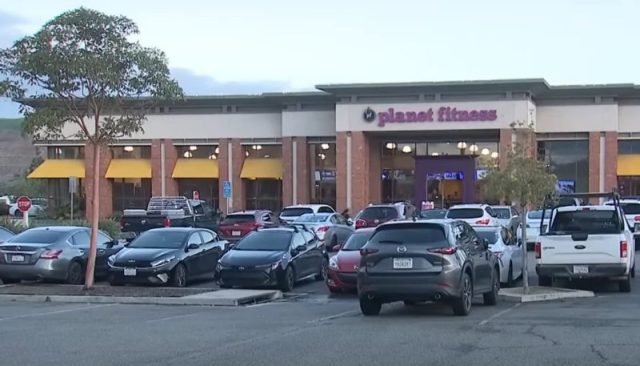 Aman Dhaliwal, a popular 41-year-old Bollywood actor, was attacked outside Planet Fitness at 3685 Grand Oaks in Corona, California, according to Fox 11. While trying to get to his car in the parking lot outside the gym, the victim was approached by 30-year-old Ronald Chand from Santa Ana and assaulted with a knife and hatchet.
The attack allegedly unfolded when Dhaliwal began recording Chand after observing erratic behavior. Apparently enraged by being recorded, Chand allegedly blocked Dhaliwal's car with his own before smashing in the window with a hatchet, The Blaze reported. Chand then lunged at Dhaliwal with the hatchet and a knife, stabbing him several times. Holding his victim at knifepoint, Chand then walked a bloody Dhaliwal into the gym, which he would soon find out was a big mistake.
In a video captured inside Planet Fitness, the alleged attacker is seen holding his victim at knifepoint. While inside the lobby of the gym, Chand begins to berate gym members, accusing someone of taking advantage of him before yelling for someone to give him water. The disturbance quickly caught the attention of gymgoers, including John Keene, who was among those who ultimately helped make Chand regret his choices.
"I was on the stairclimber and I heard screaming behind me," Keene recalled. "At first, I thought it was an argument, so I kind of ignored it, and after about a minute, it got louder, so I turned off the machine and got down to walk over there," Keene continued. "[The suspect] had his arm around the victim and the victim was covered in blood. Three other guys were all walking over at the same time. There were four of us," Keene explained, recalling what he observed on closer inspection that made him realize this was no mere argument.
In the heart-pounding footage of the incident, the suspect is seen with the knife in his raised hand as he is poised to stab his already bloodied victim again. However, his focus and his stabbing hand both temporarily shift as he pivots to yell at onlookers. That's when Aman Dhaliwal seizes the opportunity to turn the tables. With Chand slightly distracted, Dhaliwal yanks the hatchet to one side before engulfing the suspect in his arms and taking him to the ground in a tackle.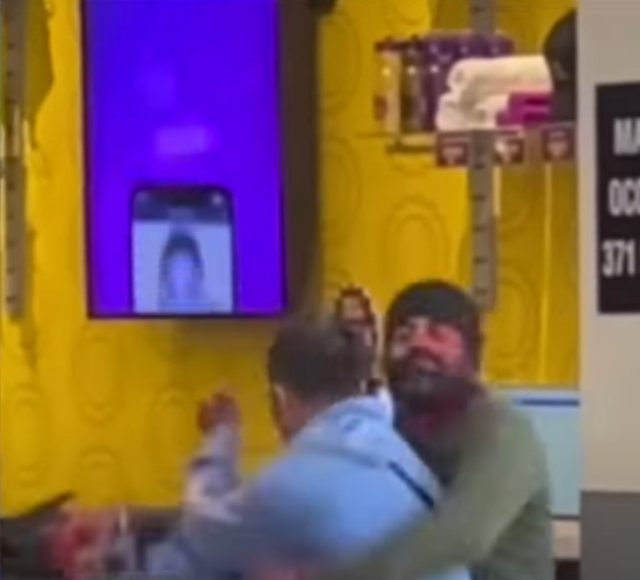 Chand, with a small 145-pound build, folds to the ground like cardboard under Dhaliwal's weight, but he allegedly continued to violently lash out. That's when gym members came to Dhaliwal's aid. With their added muscle, Chand was taken down and held as they waited for police to arrive, which Keene admitted seemed like "forever."
"We all just bounced on him and disarmed him and held him down for the police. It kinda happened fast," Keene recalled. "I got him on his back and I held his arm down so Steve [another gym member] could take the knife from him," Keene continued. "And then there was hatchet there too and we handed it to somebody else, and they took it away from the scene," the good Samaritan added.

"I wasn't scared at that moment. I felt the adrenaline after, but because the victim acted, we didn't have time to decide or think about it. I was involved before I thought about it," he said. "It seemed like forever, but it was probably two or three minutes, and then, a motorcycle cop came in."
According to Keene, stepping in to help was simply the right thing to do in his mind because he would want someone to do the same if it were one of his loved ones facing an armed attacker. He also had some advice for others, saying the incident was a reminder to always be on the lookout for possible danger.
"If it was any of my loved ones, my wife or my kids, I would want somebody to stand in, so I just think that's what people should do," Keene said. "When you pull up into any parking lot, look around to see who is around," he added, according to ABC 7. "Always be watching. Be willing to help other people, too."
Unlike Keene, Rachele Wolfe, who goes to the gym daily and also witnessed the bloody scene, admitted that she was left terrified and afraid by what she saw. In fact, the day after the attack, she had her husband come with her to the gym to make her feel safer.
"I was terrified," Wolfe admitted. "I immediately called my husband and said there's a man in here with a hatchet and another guy is bleeding, and he dropped what he was doing and ran down here," she recalled. "It was terrifying. I was afraid. I didn't know what was going to happen. It seems like a safe place. You come, you work out, you leave, but it just goes to show you, you're not safe anywhere."
Aman Dhaliwal suffered multiple, non-life-threatening stab wounds to his upper body and was taken to a local hospital for treatment before being released. It was reported that he is expected to make a full physical recovery.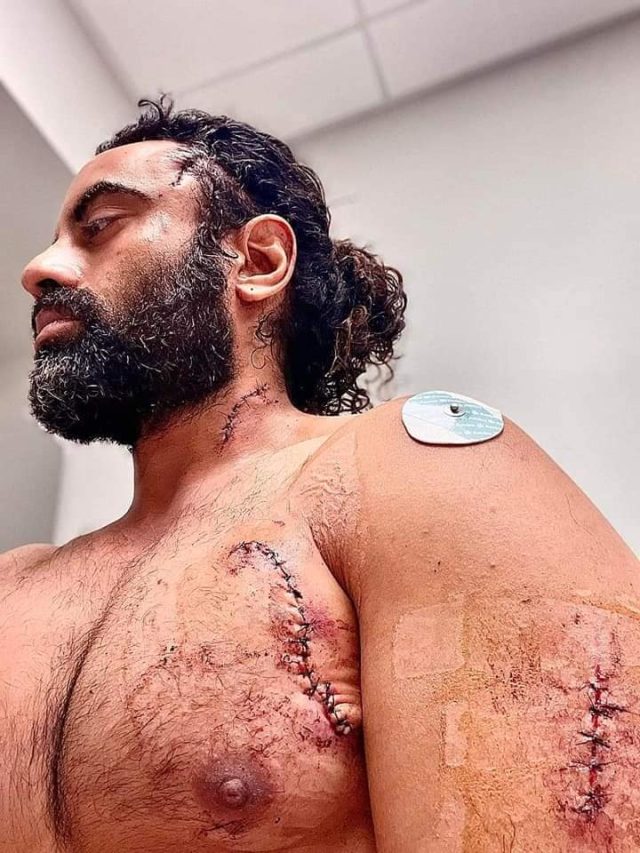 Ronald Chand was also taken to the hospital, where he was treated for minor injuries before being booked into the Robert Presley Detention Center. He was charged with attempted murder and two misdemeanor counts of assault with a deadly weapon resulting in great bodily injury. His bail was set at $1,000,000, according to Corona Police.
While the police commend the good Samaritans who helped the victim in this case, they recommend any citizen witnessing or encountering a person displaying erratic or unusual behavior call the police department immediately, especially when a person is armed. Unfortunately, when seconds count, law enforcement is often minutes away. Thankfully, at least four gym members seemed to realize this and stepped in to help save a man from his attacker before the assault turned fatal.